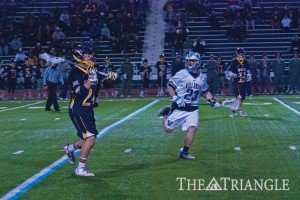 A schedule that consists of three top-10 teams in the first five games must belong to a team of high caliber and a rich history. Not to say that the Drexel men's lacrosse team doesn't have a rich history — they have been extremely successful as of late, being ranked in the top 20 at one point or another in each of the last six seasons.
Well, the Dragons are embracing their top-tier competition, such as the No. 1 University of Virginia and No. 7 University of Notre Dame, and playing them very stiff, essentially giving the NCAA something to think about.
Not only is Drexel doing well, but the entire Colonial Athletic Association is succeeding, with four of its seven teams ranked in the top 20 — the Dragons are just outside that at No. 22.
"There are a lot of good teams," head coach Brian Voelker said. "There are teams that, at the end of the year, are going to be ranked really high. There are going to be teams that have really good records and have good tournament resumes. … When we get into the league, you gotta take it one at a time, you gotta get wins, gotta get into that league tournament and gotta do everything you can to win that league."
Of late, the Dragons have played some stiff competition. Coming off a tough loss at current No. 12 Villanova University, Drexel headed straight into a home contest against the Fighting Irish, whom the Dragons have played tough the last few seasons, beginning with their overtime upset on Vidas Field just three years ago.
Heading into the game at Vidas Field March 3, the Dragons were ranked No. 18 and the Irish No. 9. The Dragons played the game with some outstanding defense but ultimately were not able to create the necessary offensive production and fell short to Notre Dame 5-6.
The loss was the Dragons' third to a top-10 team this season; the others were Virginia and Villanova.
"Obviously we've had a lot of close ones with some really good teams — Virginia and Notre Dame — but the bottom line is those guys played better than us, and those guys won the games and we didn't," Voelker said.
The game did start off fast for the Dragons, as junior midfielder Aaron Prosser put two goals past Notre Dame junior goalie John Kemp. Stout defense and strong play by senior goalie Mark Manos held the Dragons stiff, giving them a 2-1 lead heading into the break.
"I was happy with the way we played defensively," Voelker said. "I thought we could've done some things a little bit better on that end. But it was a good day."
Unfortunately for Drexel, their defense was unable to match the offense, as the Irish put up a four-goal third quarter and added another in the fourth — five total — but the Dragons were only able to muster three more.
A huge missed opportunity for the Dragons came with a minute remaining. Drexel had the man-advantage and an opportunity to tie the score and send the game to overtime in what was mostly a defensive struggle. The Irish neutralized the threat, though, as they did not allow a Drexel shot during the man-advantage, sealing the Dragons' fate.
"[Notre Dame is] very talented defensively, but I thought we had some opportunities, but their goalie made some saves," Voelker said. "They caught some breaks, and they made some breaks and we didn't, so you give those guys credit — they won the game. I think we had some chances, but we didn't do what it took."
Voelker went on to talk about how he, his coaches and his players took a step back and looked at this one-goal loss. He said that he hoped everyone on the team would be able to think of something they could have done better in order to earn the victory.
"Again, it's good in some ways to know that we can hang with a team like Virginia or we can hang with a team like Notre Dame," Voelker continued. "Now our job is to figure out how to get those wins because we've had the opportunities."
The Dragons had to forget about that tough loss quickly, as they were preparing for their first conference game of the season against St. Joseph's University.
Drexel was able to bounce back in a big way, topping the Hawks 8-4 at St. Joe's March 6. The Dragons were led by a very balanced scoring attack — a theme on the season — and earned their second victory on this young year.
"It's not one guy that we're focusing on, and I think as a team that's better," Voelker said. "It's better to be able to share the ball and have people step up and do it. I think Aaron Prosser has played really well the last couple of games and has looked good.
"I think we're waiting for that next guy to step up, and we're not really sure who it's going to be this weekend, but it'd be great if you could have five or six or seven guys on [the offensive] end kind of spread things out and do it as a team, and that's really our philosophy."
Prosser, along with junior attackman Robert Church, scored two goals on the game. Church added two assists as well, and junior attackman Brendan Glynn added a goal and an assist. Glynn also added another statistic, taking a game-high 13 shots.
"If you look at the stats and you look at the game, our kids did a good job," Voelker said. "We really controlled the ball. We controlled the middle of field, and we took a ton of shots."
Throughout the entire game, the Dragons put hard pressure on the Hawks, but they still headed into the half tied at two apiece.
"We hit a bunch of pipes. We kept the pressure on them, and things just didn't fall," Voelker said. "Our kids kept working at it — it was a little bit frustrating — but we just kept working and kept working. I thought we did a really great job defensively the whole game."
Another standout for the game was sophomore faceoff man Deven Thomas, who won 11 of the game's 15 faceoffs, helping the Dragons to control the pace of the game by keeping the possession arrow pointed in Drexel's direction.
"Devin did a great job at the faceoff getting us possessions, and we just kind of kept plugging away and plugging away against a team that played really hard, and things started to fall for us," Voelker said.
With the win, the Dragons moved into first place in the CAA, albeit with a 1-0 conference record. The start in the CAA is a good one for the Dragons on this young season, as they will be facing stiff competition all year.
Drexel will hit the out-of-conference schedule a couple more times coming up, starting with games against Bryant University March 10 and Bucknell University March 13.
The Bulldogs will be a tough matchup for Drexel, as they are another team with a quality netminder. The game between these two teams last season was a classic, as the Dragons took the matchup 8-7 at Vidas Field in a four-overtime struggle.
Drexel will be welcoming back junior attackman Nick Trizano soon, and he will help balance an unpredictable Drexel attack, which has thus far been unable to put together a solid effort on defense and offense in the same game. Voelker feels his team will be able to start putting it together on both ends, and that will lead to more wins.