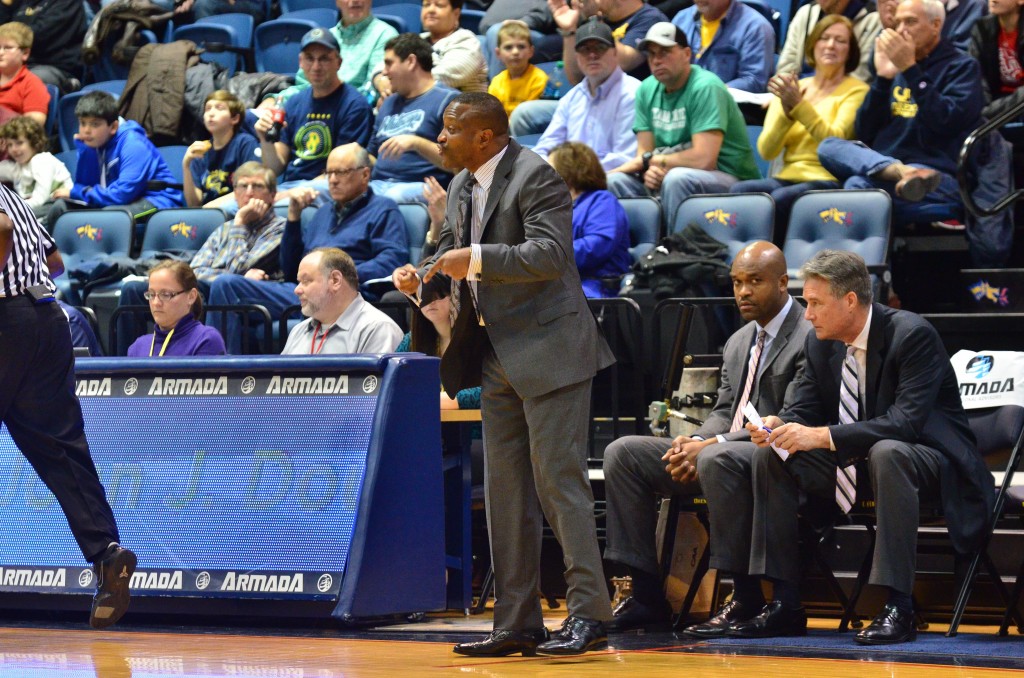 Last season, the Drexel men's basketball team ranked third in the country in turnovers per game. The team committed 255 turnovers in 30 games, averaging just 8.5 giveaways per contest. Only Georgia State University and the University of Wisconsin-Madison were better.
A man named Frantz Massenat ran point, conducting the Dragons' offense in his fourth year at the helm of the squad. Massenat directed his players with confidence and a seasoned wherewithal that is born from experience and experience alone.
This season the team's starting point guard, Rashann London, is a freshman. He has played eight games in his Drexel career, and the Dragons have committed 106 turnovers, or 13.2 per game. In the team's loss to La Salle University Dec. 13 London committed six of the Dragons' 16 turnovers.
This is a very different team from last year's outfit, and eight games into the season turnovers have proven to be their kryptonite.
"You can't keep giving the ball to people, man," head coach James "Bruiser" Flint said, exasperated, after the loss to La Salle, his team's sixth loss of the year. Flint spent much of the afternoon invading London's personal space, reminding him — some reminders louder than others — that he needed to take care of the ball.
London scored 10 points, but his six turnovers were momentum killers.
"We had the game where we could have been in it plenty of times," Flint explained. "Threw it to them for layups, we stepped out of bounds, we stepped across half court. That was it, right there.
"You've got to be able to make a play with the ball. You want to run offense? You've got to be able to dribble and get us into offense."
The turnover parade was an unexpected wrinkle from London. Entering the game, London hadn't committed more than three turnovers in a single game. For a freshman point guard experiencing full court press more than once already this season, his handling of the pressure had been surprisingly successful. He made it look easy.
Against La Salle, London looked uncomfortable all game long.
In one instance the freshman was pressured by the Explorers' Amar Stukes into dribbling out of bounds while simply dribbling up the court. Just four minutes later London succumbed to more pressure and committed an over-and-back. Both turnovers came with the Dragons within eight points or fewer.
"[London] had six [turnovers] today," Flint said, with a grin. "Hope he learned his lesson."
After the game, La Salle head coach John Giannini said that La Salle's pressure wasn't something they used because of the opponent they were facing. The Explorers use pressure consistently, he said, trying to pick up full court and get pressure on their opponents.
Giannini said he was happy with the success his team's defense saw against Drexel.
"I think our pressure was very effective. I think 16 turnovers is pretty good, and holding someone to 55 points and under 40 percent from the field is pretty good.
"I think the stat sheet shows that it was a good defensive effort."
It was successful, but it wasn't unexpected. Flint explained that he warned his team that the Explorers would be aggressive on defense from the jump, which they were.
"I knew La Salle could do that to us," Flint explained. "We talked about it for three days. The one thing I like about their team is I think their guards can really get after you without trapping. They can do that, and they did it. That was the key to the game."
The Dragons' turnovers were evenly distributed between the two halves, with eight coming in the first stanza and eight coming in the final twenty minutes.
Towards the end of the first half, Drexel trailed 20-15 despite a brutal start to the game. On the next two possessions, guard Freddie Wilson committed a pair of turnovers, both of which went the other way for La Salle layups. In 26 game seconds, Drexel turned it over twice and the Explorers' lead grew to nine points.
By the end of the game, La Salle scored 16 points off turnovers. In Flint's mind, the points his team gave to their opponents sealed the deal.
"We turned it over, and not only turned it over, but turned it over for a layup," Flint said. "That's what it came down to."
Their turnovers also came in crucial situations.
Drexel began the second half with eight straight points to cut an 11-point halftime deficit into a three-point gap; all eight were scored by junior guard Tavon Allen. Giannini called a timeout just 45 seconds into the half to try and calm his players down.
On the very next possession, following a missed three-point attempt from La Salle's Rohan Brown, the Dragons had the ball with a chance to draw within one point or tie the game. Instead, sophomore forward Rodney Williams turned the ball over, leading to 90 scoreless seconds from Drexel.
The Dragons' inability to keep the ball and make plays when the score was close, Flint said, cost them the game in the long run. The game was there, within their grasp, multiple times. His players just couldn't compose themselves long enough to capitalize.
"We had plenty of times," Flint said, "where it was [within] one, or three, or five, and you know what? We turned it over."
Flint's answers sounded like a broken record skipping over the same 30-second segment in his post-game press conference. But then, he wasn't wrong. The Dragons have a turnover problem that they need to fix. And until they do?
"Until we get better at it, we're going to struggle like this," Flint said, plainly. "It's going to be frustrating. That's the bottom line."