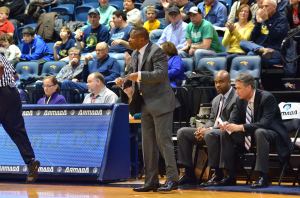 When the Drexel University men's basketball team tied the record for fewest points scored in his 14-year tenure Jan. 15, head coach James "Bruiser" Flint wasn't dragged kicking and screaming from the Daskalakis Athletic Center. The Dragons lost, 54-35, to James Madison University, the team's 67-point effort against Elon University 12 days before felt more like 12 months.

There was nothing left in the tank. He had exhausted himself in the first half, stomping at his team, exalting where exaltation wasn't nearly enough.

A dismal, nearly historically bad first half sunk the Dragons against the Dukes. After taking a quick 9-0 lead, Flint's squad went 15:03 without making a single shot from the field. The team scored three points during the stretch, all free throws, and trailed 17-12 going into the merciful break.

In total, the Dragons missed 19 straight field goals to end the first half. Their 12 first-half points were just two shy of the team's record for fewest points in a half, which the team set on Feb. 23, 1946, against Lebanon Valley College.

The second half wasn't nearly as ugly, but the Dragons finished the game going 12-of-50 from the field, good for 24 percent. The final tally was just 0.6 better than the program's worst shooting effort of all time, when the Dragons shot 23.4 percent against Northeastern University on Feb. 2, 2008. The 35 points tied the worst effort of Flint's career; the Dragons also scored 35 points in a 49-35 loss to the University of Virginia on Nov. 19, 2011.

Flint had few answers after a listless second half finished the effort off, dropping the Dragons to 1-4 in Colonial Athletic Association play. He spoke in circles for the majority of the seven-and-a-half minutes he held court.

"You're not going to shoot 24 percent and win any games," Flint said, plainly. "We held them to 54 points. What do you want to do? We held them to 54 points. The defense was fine. We shot 24 percent for the game. What are you going to do? We scored 35 points. What are you going to do?

"There's no answer to that."

Junior guard Damion Lee, the CAA's leading scorer, managed to score 14 points on five-of-12 shooting, draining three of his six attempts from beyond the three-point arc. The rest of his teammates weren't as successful, hitting just seven of 38 field goal attempts.

Lee's 12 field goal attempts tied his third-lowest mark of the season, and after the game Flint credited James Madison, to a degree, for stopping Lee when the Dragons had the ball.

He also had harsh words for the way his offense played.

"If you watched the other guys on [Drexel] shoot, would you let Damion Lee get shots off?" Flint asked, rhetorically. "He's five for 12, and the rest of the team made seven baskets. Would you guard him?

"Other people on the team have to make a basket. You've got to make some baskets.

"So, yeah, they did a good job on him. They're supposed to, when they realize, 'Oh, the other guys aren't making them.' He'll get more shots if other guys make more baskets, make some plays. If they don't other teams are going to stay on top of him."

Most opponents have entered their respective games against Lee fully aware that the junior sharpshooter is the cog that turns Drexel's offense, but Lee's 14 points against James Madison was his fourth-lowest total in the Dragons' 16 games to this point.

But Lee scoring just under seven points below his average was the least of Flint's concerns. He's more worried about the way his team is shooting the ball from the field, especially in the second half of the season.

When asked what he told his team after such a dismal shooting night, the worst of his career in University City, Flint was almost resigned to his team's poor performance.

"We're the worst shooting team in the league," Flint admitted. "We're shooting 38 percent, so we have a lot of nights like this, to be honest with you. Not as bad as 24 percent, but we don't shoot the ball. This was as bad as we've gotten.

"But we shoot 38 percent. And at times we're open. Guys have to be ready to make plays, make shots."

Flint was pleased with the way his defense played against James Madison, holding a team that entered the game averaging nearly 65 points per game to just 54.

Dukes forward and Lower Merion native Yohanny Dalembert scored 15 points on six-of-seven shooting to lead all scorers, and Flint wasn't pleased with the way his forwards allowed him to square to the hoop in the second half and shoot close to the rim.

But in the grand scheme of things, Flint wasn't concerned with his defense after the loss. He returned to the shooting, the true culprit on a night when there was plenty of blame to toss around.

"From a defensive standpoint, I can't ask for much more," Flint said.

"We shot 24 percent. What do y'all want me to say? What do you want me to say?"

Drexel (3-13, 1-4) heads to rival University of Delaware (3-13, 2-3) Jan. 17 at 4 p.m.