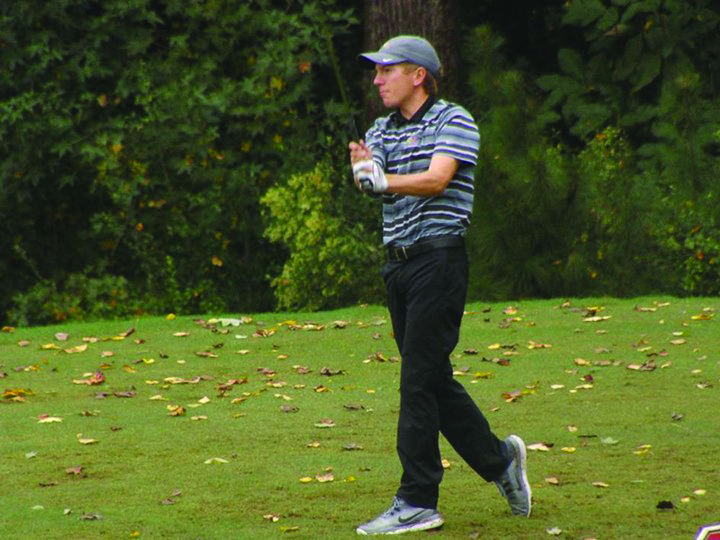 Entering the Elon Phoenix Invitational at Alamance Country Club in Burlington, North Carolina Oct. 17, the Drexel University golf team was on a roll. They had tied for first in their last two tournaments, at the Matthews College Invitational Oct. 3 and the Explorer Stroke Play Oct. 11, and were riding high on the extra emotion of the latter's walk-off chip-in victory as dusk turned to dark.
Golf is ruled by the minutiae though, a game where even the slightest of inconsistencies in one's swing or confidence can cause a hole, a round, or even an entire event to turn from rousing success to humbling defeat. Such was the case for this week's effort against the 15-team field assembled at in Burlington, where after the dust settled, Drexel found itself in 14th place, a full 48 strokes behind champion Gardner-Webb University.
The Dragons sent out freshman Connor Schmidt, sophomore Mike Cook, juniors Aaron Fricke and Adam Mistretta, and senior Brian Fischer for the event. Fricke, Schmidt and Mistretta have been mainstays this year, appearing in every single event this year, while Cook and Fischer stepped into the tee box for the first time in competition on the season.
Early on, this gap in experience showed, with the seasoned trio shooting a combined even par on the day while the newcomers combined for a 16-over-par effort. Cook bounced back for a one-over-par 72 in the second round, but the rest of the team took a step back, with their second-round total ballooning to ten over par. The final round once again saw too many big numbers for the Dragons, resulting in a nine-over-par composite score on the day.
While as a team, Drexel failed to continue the hot streak, the same could not be said for Aaron Fricke. His final hole heroics capped off a highlight-ridden tournament for Fricke, who, when feeling confident over the golf ball, has proven time and time again his ability to navigate a golf course successfully.
"Aaron's a great player, he has been since he got here. He just has to believe it sometimes,"  head coach Ben Feld said last week after Fricke's final hole heroics last week.
And believe it he did this week, posting red figures on two of his three rounds in the tournament. Overall, he ended with a three-under-par 210, good for an impressive tie for 15th place.
In the end though, there was nothing Drexel nor anyone else could do about Gardner-Webb, who simply ran away with this tournament from the outset. Their balanced attack resulted in scores under par on all three days, including a massive 12-under effort to close out the victory on Oct. 18. They ended up finishing at 22 under par, blowing out their nearest competition by an astounding 18 strokes.
Drexel will remain on North Carolina soil as Fricke and co. travel to Kilmarlic Golf Club to compete in the OBX Intercollegiate Oct. 23, looking to get back to their winning ways of late.