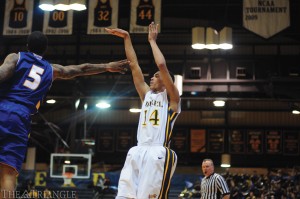 Junior Damion Lee stands at 6 feet 6 inches, 200 pounds. He's a lanky, sprawling shooting guard whose three-pointer is one of the most deadly in the Colonial Athletic Association. He's also probably the most soft-spoken player on the entire men's basketball team. But don't let that fool you — he means business this season.
Lee's career began with a breakout freshman year during the Dragons' exceptional 2011-12 season. Lee averaged 12 points per game, lit up then-CAA rival George Mason University for 21 points on national television, and was named CAA Rookie of the Year.
The pressure mounted last season when Lee was named to the preseason All-CAA First Team. Overall, he improved his shooting from the field, scoring and rebounding, but he was inconsistent on a game-to-game basis.
Then, in early January, his knee started to act up. He missed games, his play wavered, and his sophomore year did not amount to what many thought it would. He finished the season on the All-CAA Second Team; something some would consider a step down.
Lee acknowledged that his injury played a role in his inconsistency last season, but he did not want to place the brunt of his problems on the injury alone.
"Dealing with injuries is tough because you know first you have to get back physically, and then mentally, and then once you get over the mental part of it you can get back to playing," Lee said.
"It was kind of tough that it happened in the middle of the season, but even before then, I was still a bit inconsistent, having a couple good games and a couple bad games, and after that I just needed to push through," he said.
Prime examples of Lee's consistency problems can be found in the game logs from last season.
Two weeks after returning from missing two games in January, Lee went on a tear. Playing three games in six days, he averaged 26 points per game against three staunch opponents in GMU, the University of Delaware and Georgia State University. The Dragons won two of those three games.
In the next three games, however, Lee lost his scoring touch and scored just 16 points in 83 minutes, including coming up empty-handed Feb. 7 against Old Dominion University. The Dragons lost two of those three games.
First-team players are typically counted on to bring the skill that earned them the honor, and Lee readily acknowledged that he didn't bring it on a nightly basis last season.
Now that he's been named preseason First-Team All-CAA for the second consecutive season, Lee knows it's time to reach that next level every night. Going into the season, it doesn't seem like last season's setbacks have deterred him in any way.
"I really worked on my overall game and becoming better as a player, managing the game better," Lee said when asked about his preparation over the summer. "I haven't worked on one thing specifically, but I've definitely been putting the pieces of my game together to help me improve."
Lee said he has been making a conscious effort not just to step up his game personally but also to become more of a leader. As a junior, he is officially an upperclassman and therefore one of the players to whom the incoming guards will look for guidance.
"I've been through the wars the first two years, and I definitely feel like, if not a vocal leader, somebody who can lead by example."
When asked about the meaning of personal goals for the upcoming season, Lee's answer was music to every coach's ears, especially those of Drexel head coach Bruiser Flint: He wants to keep the focus on the team's success.
"Everyone has personal goals, but those don't get accomplished without the team winning," Lee said. "I'm glad we have [sixth-year guard Chris] Fouch back this year as another scoring option, and Tavon Allen can score the ball, so we have a lot of guys this year that can put the ball in the basket."
The balance of scoring in the Dragons' lineup will certainly help Lee, who last year often struggled due to the weight of the scoring load falling on his shoulders.
In nearly one-third of the games he played last season, Lee attempted 15 or more shots. Only one of his eight games with 50 percent shooting or better came on the nights when he attempted 15 or more shots.
There was a direct correlation between Lee's volume and his efficiency as a scorer last season, and it's one that he doesn't want to repeat again.
"It doesn't have to be the same person every night," he said. "We could have five different games with five different leading scorers, and I think that's our biggest attribute for the upcoming season."
With the return of Fouch, the returning presence of Allen and senior guard Frantz Massenat, and the arrivals of freshman Major Canady and Seton Hall University transfer Freddie Wilson, Drexel has a backcourt that's ready and raring to score every single night.
However, Lee isn't too keen on speculating success based on paper predictions and predeterminations. He and the rest of the CAA-favorite Dragons felt that spurn last season when they exited the conference tournament after just one round.
"I do think we can do it," Lee said when asked whether he believes that this team has what it takes to win the CAA championship. "I'm confident in it. … I think this year we really need to put things into action, and we can't be a team that talks about it. We have to just do it."