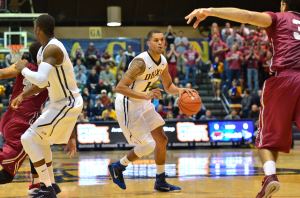 The old saying goes, "defense wins championships." Not quite.
If there's anything the early season performance of the Drexel University men's basketball team shows, it's that basketball is a two-way game.
Experts, players and fans alike differ in their preference between offense and defense, but it doesn't really matter. You cannot consistently succeed without a healthy helping of both. For these Dragons, as has been the case for recent Dragons teams, offense is the problem.
In three games, the Dragons have scored 48, 49 and 46 points. Their defense has been okay but their offense has fully let them down.
Against the University of Miami Nov. 20 at the Charleston Classic, that was again on full display.
The storylines from the first two games continued to be a problem, as the Dragons once again missed easy shots and were plagued by turnovers.
The biggest problem? Playing against good teams with basically only one viable scoring option.
Damion Lee, who became the 34th player in Drexel history to score 1000 points in his career during the game against Miami, continues to be the only player capable of scoring for the Dragons.
He only had nine points in the game, but considering the performances of his teammates, he looked great.
Tavon Allen in particular has been dreadful this year. He scored 13 points in the game, which sounds great, but he did it with a 4-17 shooting performance, good for 23.5 percent.
Allen was also a notable problem during the Dragons' matchup with Saint Joseph's University Nov. 17, where he was 1-8 for three points and had six turnovers. His six turnovers were almost half of the team's total for that game.
Another player who's proving unable to contribute in a meaningful way is sophomore forward Rodney Williams. Playing particularly in the painted area, where shooting percentages are usually very high due to the proximity to the basket, Williams turned in yet another sub-35-percent shooting night.
Against Miami, Williams turned in an awful 1-8 shooting performance, scoring only three points as the team's main interior threat.
The biggest problem for the team comes down to a lack of production from the big men. The team lost senior forward Kazembe Abif to a torn anterior cruciate ligament for the year, and he was expected to be their go-to big man.
Without Abif, Williams has been thrust into the spotlight following his successful freshman season and was expected to take a step forward but instead has mostly regressed. This season, Williams is shooting less than 30 percent and is averaging 5.7 points and 7.7 rebounds per game.
Combining the Dragons' inability to shoot consistently from the floor with a lack of interior scoring is a recipe for disaster on the offensive end, especially because they have no reliable scoring threats not named "Lee."
On the game, the Dragons shot an awful 31.4 percent, including 30 percent on three-pointers, but they took 20 in the game. There's no point in taking such a high volume of threes if the team can't make them at a high percentage.
For opposing defenses, all they have to do is stop Williams from dunking and double cover Lee and the Dragons are basically unable to score. That isn't a difficult strategy, and it has worked well for the three teams the Dragons have faced this season.
Head coach James "Bruiser" Flint summed up this problem to reporters in his post-game press conference.
"We need our big guys to make plays or our guards are going to have guys draped all over them all night," Flint said. "It wasn't like we didn't give them the ball in good position, they just aren't finishing."
The Dragons will try to lick their wounds and move on against the University of Southern California Friday, Nov. 21.