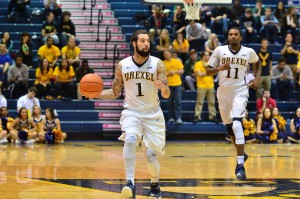 "What are you going to do?"
At some point, the words start to stick. At some point, the criticism of offensive schemes begins to erode and logic starts to take hold.
What are you going to do?
James "Bruiser" Flint, the head coach of the Drexel University men's basketball team, must have uttered that phrase four dozen times throughout the course of the season's press conferences.
In November, he used it as a crutch when his team missed open shots and couldn't halt a high-flying Iona College team. After the Dragons' 58-44 loss to the University of Delaware Feb. 26, he asked it because there was nothing left to ask.
The team announced Feb. 22 that junior guard Damion Lee, the Colonial Athletic Association's leading scorer and Drexel's sole offensive catalyst, would miss the rest of the season with a broken hand. The junior sharpshooter suffered the injury in the team's loss to Northeastern University the day before. Lee played the majority of the game with the injury, finishing with 30 points.
On Feb. 25, the day before the team's loss to Delaware, freshman guard Sammy Mojica, Jr. slipped on a wet spot during practice and sprained his knee. He, too, is done for the season.
Lee and Mojica became the fourth and fifth Dragons, respectively, to have their seasons cut abruptly short by injury.
So when the Dragons couldn't muster more than 44 points on senior night; when his team couldn't stop Delaware from shooting 54.2 percent in the first half; when his team missed 46 shots, Flint couldn't ask anything else. What was he going to do? He had seven players, and this time he didn't have his best one to save the rest.
"It's just been one of those years," a dejected Flint said after the loss, slouched in his blue felt-backed chair in the Daskalakis Athletic Center for the final time this season. "Guys got tired. We've got no guard subs. A couple of my big guys got in foul trouble.
"I just wanted us to keep fighting is all. That's all you can ask from them. It is what it is with this thing," he said.
"This thing" is a slew of injuries that started in April, when senior forward Kazembe Abif tore his anterior cruciate ligament. He's missed the entire season.
"This thing" continued in late October, when sophomore guard Major Canady dislocated his ankle in practice. Out for the year as well.
Seven different players have suffered major injuries, either ending their season or missing upwards of a month of playing time.
"This year has been absolutely, positively ridiculous," Flint said. "The toughest thing about these injuries, especially this year, is you've got to try and do something different."
Against Delaware, that different thing was playing senior guard Freddie Wilson for 40 minutes. Wilson scored 12 first-half points, leading the team by example and knocking down big shots on senior night adrenaline. But in the second half, Wilson said he was just plain tired. That wasn't ever the plan with Wilson, and as Flint explained, when you throw players into situations they're unprepared for, you're just begging for miscues.
"You're putting people in positions they're not necessarily used to being in," Flint explained. "That's the big thing about having injuries — you're asking guys to do things that, some of them aren't ready to do it, and some of them just can't."
The loss was the Dragons' fourth in a row after winning six straight, and dropped them into the seventh spot in the CAA standings. Unless Drexel tops The College of William & Mary in the final game of the season Feb. 28 and Delaware loses to Towson University on the same day, Drexel will be the No. 7 seed in the CAA Tournament starting Mar. 6 in Baltimore, Maryland.
With one regular season game to play, and likely not an abundance of action in the postseason, Flint said he's just trying to keep his remaining seven players focused on preparing for whatever comes at them.
"We'll come to practice, talk about different scenarios just in case we lose our guards, do the types of stuff like that," Flint detailed. "We've got seven players, so we can't scrimmage. We're just walking through, stuff like that. That's it, really."
Because, really, what are you going to do?