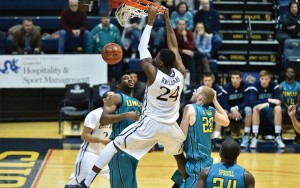 The Wall Street Journal published an op-ed Jan. 4 from Drexel University President John A. Fry, in which the school's figurehead, nearing the end of his sixth year in charge of Drexel, shamed other schools for pumping millions of dollars into football programs. In the piece, he wrote that such programs "wouldn't survive in the private economy and only function by 'taxing' the rest of the University."
Fry pointed to football, and inflated athletic costs writ large, as a major detractor of funds from schools around the world.
And while he made a few salient points, including reminding Drexel students why the school lacks a football team, Fry's sentiments were ultimately hollow for a whole different reason.
But first, let's touch briefly on why he was correct in stating that Drexel is better off without a football team.
"Not having a football program turns out to be a major strategic advantage for Drexel," Fry wrote.
During the 2014-15 reporting year, the grand total revenues minus grand total expenses for the athletic department was $402,275, according to the U.S. Department of Education. With a football team, it's safe to guess that figure would be in the red instead of the black.
But—and this is where it gets dicey—what good is the saved money doing for Drexel's athletic programs?
"Our student athletes in other sports win conference championships; many of our teams are nationally ranked," Fry wrote. "Our Division I athletic programs create a strong sense of pride on campus."
Are the teams dominating their competition because of financial finagling?
Not necessarily.
Since Drexel joined the Colonial Athletic Association in July of 2003, Drexel's varsity sports teams have won four conference championships. That's four, from softball and soccer, to defunct sports like baseball and volleyball, to tennis and a rejuvenated women's basketball team. That's four conference championships in 176 seasons of CAA play, which isn't great.
And the saved money has done nothing to aid Drexel's flagship athletics program, the men's basketball team, which in recent years has turned into the worst team in the CAA, just four years removed from its best season of the millennium and a sizable extension for its head coach, James "Bruiser" Flint.
The Daskalakis Athletic Center—and, more specifically, Sam Cozen Court and the surrounding basketball amenities — has undergone renovations in each of the last two seasons. During the 2014-15 reporting year, the men's basketball team accounted for a little over $2.42 million in expenses, or roughly 18.1 percent of all expenses from the school's 18 varsity teams.
Consequently, since the beginning of the 2014-15 season, the Drexel men's basketball team has endured its worst two-season stretch since Flint took over coaching duties in the summer of 2001.
What good is money saved if it's poured into stagnating athletic programs?
It would be misleading to ignore the recent successes of a number of Drexel's athletic programs. The men's lacrosse team advanced to the Elite Eight in 2014. The women's tennis team had one of its best seasons ever during the 2014-15 campaign. The men's and women's crew continue to be the dominant rowing programs in the city.
But those aren't the programs benefiting the most from the school's pockets when it comes to athletic spending; instead, Fry and athletic director Eric Zillmer have deemed a floundering men's basketball program to be the ideal recipient of the money saved by eschewing football.
This makes sense, in theory, because of the potential revenue stream from a successful men's basketball team. With ticket sales, merchandise, and financial benefits from potential tournament runs, the upside is high and the challenge is relatively low in a mid-major conference. All it takes is one standout season.
But that season hasn't arrived in 15 years of the same head coach, yet Fry and Zillmer have green-lit Flint to become the third-highest-earning employee at Drexel.
When over $2.42 million is poured into a flagship program being piloted into oblivion, it doesn't matter how much money is saved. What matters is how much money is still being wasted.
The point Fry made is, at face value, a valid one. It is unnecessary for Drexel University to waste money and resources on a football team that would, at best, be a middling contender in an irrelevant conference.
But to beat your chest, and furthermore write a letter to a newspaper — not, mind you, one of the struggling newspapers in the city in which your university is located — trumpeting something you claim to be doing better than everyone else, when in fact your athletic programs are merely average or worse, is to decorate your office with second-place trophies.