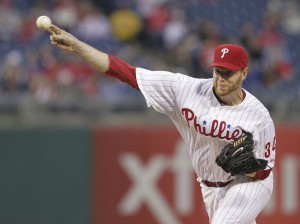 For the second consecutive May, Philadelphia Phillies pitcher Roy Halladay has landed on the disabled list. And for the second consecutive May, many questions surround the right-hander, his future and the future of the organization.
The tipping point for Halladay's struggles came May 5 when he surrendered nine runs and recorded only seven outs. It was the second outing of the week in which he gave up eight or more runs. This came after a string of three consecutive quality starts.
Halladay met with the revered Dr. Lewis Yocum, who specializes in pitchers' shoulder and arm troubles. The doctor informed Halladay that he is suffering from bone spurs, a torn rotator cuff and a frayed labrum.
The diagnosis provided answers that everyone surrounding the team has been searching for, especially Halladay. The past calendar year has had everyone searching for answers, trying to pinpoint what exactly was wrong with the longtime ace.
Halladay did not know what to expect, as there were any number of diagnoses he could have received. To him, it is good news just to have some sort of answers and direction.
"I thought that was very good news," Halladay told reporters before the Phillies game in San Francisco May 8. "Obviously I don't want to miss time, but I think as far as scenarios go, I feel like it's a lot better than some of the things I anticipated."
The diagnosis may provide some answers as to what was wrong with him over the past year.
It began last year with a poor start May 1, when Halladay was visibly laboring and appeared ill — his face was as red as his Phillies cap. He struggled through the rest of the month and displayed horrible body language, appearing to be searching for something that was not there. This came after scouts noticed a significant decrease in velocity throughout Spring Training a few months earlier.
Halladay would come back, convincing the team he could come back with less rehabilitation starts than they advised, but he was inconsistent down the stretch. He recorded quality starts in only seven of his final 14 games. His start Sept. 22 was the nail in the Phillies' coffin, as the 7-0 loss he suffered all but sealed their elimination from the postseason.
In 2013 a string of three consecutive quality starts was sandwiched between two pairs of awful outings. Halladay and the Phillies at least now have some insight as to why he was struggling.
In his press conference, the pitcher mentioned that his struggle to locate his pitches was what most frustrated him. Yocum confirmed to him that such troubles are expected given his shoulder's condition.
"He said the biggest thing you're going to notice is lack of location first and foremost and then velocity," Halladay explained. "If it gets to a certain point, you may start feeling a little bit of pain."
He mentioned the drop of velocity, which has been documented over the course of the past two seasons. Halladay mentioned that he very well could have been struggling with the injury for years, which would be consistent with the doctor's diagnosis.
The right-hander will now go under the knife sometime in the very near future to have a scope clean up the problematic area in his pitching shoulder. Phillies manager Charlie Manuel expressed great confidence that his hurler will be back this season.
"He's going to be fine," Manuel told MLB Radio in an interview May 8. "I think he's going to be okay, and he stands a great chance of pitching this year."
There is no official or set timetable as of now, but Halladay gave every indication he would come back this season, even being open to pitching out of the bullpen. But as for a recovery time, Halladay himself estimated three months as a reasonable recovery period.
Factoring in the amount of time it would take to rebuild arm strength following that amount of time, it begins to push against the end of the season. Three months plus a few weeks of strengthening would possibly push his return into September, raising some doubt.
While some questions were answered, new questions emerge, such as if he has thrown his last pitch as a Phillie because the soon-to-be 36-year-old's contract expires at the end of the season.
Halladay was then asked whether he would be open to taking a "cut-rate" deal from General Manager Ruben Amaro Jr. to return next season.
"Like I told Ruben … and Charlie, I'm not going to make any decisions right now about down the road," he said. "I really want to get through this, come back and see how strong I can be and see how effective I can be and see if I can help us."
The Phillies, meanwhile, have decisions to make and questions to answer about their own future. There has been speculation that this season might be the team's last chance at a title run, as the roster continues to age.
For now, the Phillies will have to focus on getting back to the .500 mark and making their move for a playoff position. If they do neither of these things, whether or not Halladay pitches later in the year would be meaningless.
They will have to go about their own games and focus, one series at a time. Meanwhile, Halladay will do the same. If all goes well, he could give them a boost near the end of the season. Again, the team must be in position for him to give them one. Halladay also recognizes that it would be no good for him to come back too soon or not healed 100 percent.
"I'm going to focus on the here and now and this process. I've always told you guys I love Philadelphia, love playing here, it's a great place to be," he admitted. "But there's a lot to be determined. I want to be effective, and I want to be a part of the team. I don't want to be a hindrance."
While a few questions were answered, a few more questions emerged. One thing is for sure: The next four and a half months will dictate a lot about the future of Roy Halladay and the future of the Philadelphia Phillies.