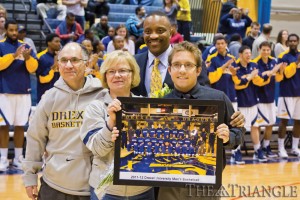 If you have been following the Drexel men's basketball team's incredible season, you may assume that forward Samme Givens is the team's lone senior. However, there is another member of the team who is playing out his senior season on the sidelines: Steven Graber.
Graber is the team's head manager, and he is responsible for a lot of behind-the-scenes work that is vital to the Dragons' success on the court. His main responsibilities include being in charge of 10 team managers by organizing their availability and putting together schedules, filming or obtaining a copy of practices and games, organizing all equipment for practices and games, keeping track of the players when the team is on the road, and making sure the players are hydrated and get a towel when they need one.
"He has true dedication to the program, and he works very hard," pre-junior manager Stephen Utain praised. "I don't think the team could succeed without him; he is that vital to the team."
Graber admits that a head manager's responsibilities at a larger school in a power conference might vary. He is friends with a team manager at Temple University whose experience is a lot different than his has been at Drexel.
"Being a head manager at a bigger-name school would have its pros and cons," Graber explained. "You wouldn't have to worry about a shortage of managers to schedule for practices, but there are more head managers, so someone in my position wouldn't stand out as much."
Graber grew up playing baseball in Buffalo, N.Y. and tried wrestling for a few years in middle school. His favorite sport was basketball; however, he never played on any sort of team. He graduated from Lancaster High School in 2007 and started at Drexel in the fall.
Other than working with the men's basketball team, Graber has experience in the sport industry working with the Philadelphia 76ers in their live events department for a six-month co-op in 2011. He is also heavily involved on campus with Alpha Epsilon Pi fraternity.
After this term, Graber will graduate with a degree in communications with a concentration in public relations. He is still waiting to hear back regarding admission to the sport management graduate program at Drexel.
In his fifth year working with the team, Graber can reflect on his memorable experiences during his time as a manager and head manager.
"My first game with the team was against the University of Pennsylvania at the Palestra, and it was insane," Graber recalled. "The game went into overtime, and we won for our first victory against them in a few years."
As far as his favorite memory goes? There are a few special ones that stand out.
"Some of my best memories are meeting [former Drexel basketball star] Malik Rose, Andy Katz and Joe Lunardi. Our trips to the Virgin Islands this season and Turkey in summer 2010 were also some great experiences," Graber commented.
This season in particular has forged some special memories for Graber, who was recognized during Drexel's season finale Feb. 22 at the Daskalakis Athletic Center.
"During Senior Night against James Madison University, I was given a signed team photo, and the arena applauded for my parents and me," Graber said. "When the team came out of the elevator before the [Colonial Athletic Association] championship game, the hotel lobby was packed with the DAC Pack, and they all cheered for us; it was an awesome moment."
The Dragons were picked as the preseason favorite to win the CAA, and though they just fell short, they had an impressive run. Graber could see this success coming based on the hard work of the team over the years.
"Every year I have been here, we have improved, and here we are waiting to see if we get into the NCAA Tournament," Graber acknowledged. "I knew this season we would be good, but I never could have imagined a 19-game winning streak. The team this year developed a great chemistry, played together and had fun. Every player played his heart out every game, and nobody gave up after our slow start."
If Graber could talk to the NCAA Selection Committee about this year's team, he'd make a great case for the Dragons to be in the 68-team field. The men's basketball bracket will be announced on The Selection Show March 11 at 6 p.m. on CBS.
"The committee should look at our overall record, our regular-season conference title and our winning streak," Graber insisted. "Don't put in a big school over us because they have a few decent wins; put us in because we are proven winners and we deserve a shot."
Personally, Graber is very thankful to have been involved with the team so closely over the past five years. It's a job that has had a great impact on his career and his college experience at Drexel.
"This job has taught many lessons," Graber explained. "[They] include time management, responsibility for others, timeliness and always striving to be the best. I learned a lot from the head manager before me, [head coach] Bruiser [Flint] and [assistant coach] Matt Collier, who was Bruiser's head manager at the University of Massachusetts."
As for his legacy as head manager for the team, Graber has left his true mark on the program with his outstanding work ethic, day in and day out.
"I want people to remember me as a hard worker and a reliable person," Graber said. "I want this job to be more known around campus and more respected. I hope the team's managers over the years are people who love this team and this job as much as I do."