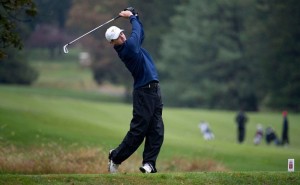 As the fall season draws to a close, the best player in the history of Drexel University men's golf continues to turn heads.
Senior Chris Crawford had yet another strong performance this week as he finished five strokes below par in the Old Dominion Outer Banks Collegiate Invitational at Powells Point, North Carolina. His three round score of 208 was good enough to earn him a second place tie for the lowest individual with Gaston Bertinotti of Campbell University. Crawford's second round score of 67 Oct. 26 was the lowest by any individual golfer in that round.
This was Crawford's third top-three individual finish on the season, and his fourth top-ten finish in five tournaments. Crawford is the reigning Colonial Athletic Association player of the year, and he could very well draw major consideration for the award again this season.
Along with Crawford's great outing, the Dragons got a strong performance from junior Yoseph Dance. Dance finished tied for 30th in individual score by shooting seven over par through all three rounds. He was particularly impressive in the final round, shooting just one stoke over par at 72. Sophomore Adam Mistretta and junior Brian Fischer both shot a 225, which earned them a tie with seven others for 49th place individually. Freshman Michael Cook finished the tournament by carding a 233 through three rounds of play.
As a team, the Dragons played adequately. Their team score of 290 on Sunday was good enough to have them positioned in seventh place in a field of eighteen by the end of the first round. However, the team was unable to make a charge up the leader board as the tournament progressed.
Despite Crawford's strong performance on the first day, the Dragons struggled in the second round. The team shot 296 on Monday as they dropped back a position from seventh to eight. They would remain in eighth place after shooting a 291 during the third and final round, finishing the tournament with a total of 877 strokes.
Their eighth-place finish at the ODU/OBX Collegiate Invitational may be a little discouraging at face value, but the Dragons faced a strong group of competitors while in North Carolina. Hopefully, Drexel can perform at a high level in their final fall tournament, taking place on Oct. 31 at the City Six Invitational of the Merion Club in Ardmore, Pennsylvania.