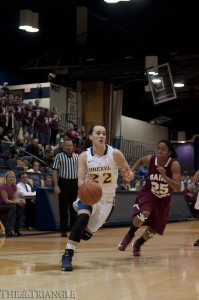 A few months ago, the women's basketball team was staring at a few holes left by their four graduated seniors. Tyler Hale, Marisa Crane, Ayana Lee and All-Colonial Athletic Association first-teamer Kamile Nacickaite were Dragons for four winning seasons, including being part of the team's only conference championship in program history.
While they still had solid pieces in place, such as Preseason All-CAA selection Hollie Mershon, they still needed depth and players around her. Assistant coach Melissa Dunne said before the season that the staff was looking for the incoming freshman class to "come in and make a smooth transition." The results have been encouraging thus far.
Drexel continued its strong start to the season Dec. 1 with a 66-49 victory against the University of Vermont, bringing the Dragons' record to 6-2. The game featured a perfect day from the floor from one of those freshmen, Meghan Creighton. The guard shot 4-4 in the game, all from three-point range, and chipped in two free throws for a 14-point game.
It was the second consecutive game the freshman had a double-digit scoring performance, in a weekend that saw the team sweep games against the University of Rhode Island and the University of Vermont, who was playing on its home floor. With the tremendous weekend, she was named the CAA Rookie of the Week.
She is enjoying her first few games, and it would seem as if she made the transition successfully.
"It's fun," Creighton said. "It's definitely an adjustment, but it's been a good adjustment, and I like it so far a lot."
It is something Creighton and the three other freshmen — Rachel Pearson, Carrie Alexander and Pandora Wilson — knew before stepping on the court. The staff and their teammates have talked to them about the shoes they had to fill.
Lost between the outgoing class and the incoming class of basketball players, though, are the upperclassmen who were already in place.
"We've talked a lot about coming in, and obviously we have big shoes to fill, but I think the seniors this year have done a great job of being leaders," Creighton said. "So I think their good leadership has made the transition easier because you always have someone to look up to and to look to."
While Creighton may be looking up to them, the coaching staff and team are relying pretty heavily on her. She has started each of Drexel's eight games, but that only begins to describe how crucial she has been to the team. The freshman has played more minutes than everyone on the team except Mershon.
Creighton says she enjoys the role and having an extra reliance on her, and she attributes much of that to the coaching staff. She has rewarded the staff for the decision to start her from day 1.
In eight games, she has averaged seven points, 2.6 rebounds and 2.4 assists per game. She has been outstanding in terms of shooting, going 37.5 percent from beyond the arc and over 93 percent on free throws. She has not missed a shot at the charity stripe in nearly a month, since the season's first game, in which she had her only miss of the season thus far.
For a freshman, she is not making a ton of mistakes, only committing seven turnovers all season. When the occasional mistake does happen, though, she is all ears, learning about it from the coaches.
"That's the great thing about this coaching staff," she said. "You make mistakes, but [it's not like] you make a mistake and you sit on the bench the rest of the game. You make mistakes, and they teach you."
Their positive approach to molding Creighton and her teammates is something she appreciates.
"So I think that being a freshman, and obviously making mistakes throughout the game, it's nice to know that when you make a mistake in the game, you can learn from it and are not just going to get yelled at and screamed at," she explained. "For every negative thing you do, they're going to tell you something positive, which I think is good."
A contributing factor to her immediate success at the collegiate level may be the tremendous pedigree she brings with her. Having played at Archbishop Carroll High School as a native of West Chester, Pa., she was a two-time state champion and three-time Catholic League champ. Her father, Chuck, played basketball himself at Widener University, and her three older brothers — Chris, Ryan and Mike — have all played Division I lacrosse at Villanova University, the University of North Carolina and the University of Notre Dame, respectively.
The way things would work out, she actually can easily be reminded of her background while on the court and around the team. Creighton was high school teammates with Mershon and Pearson at Carroll. She and Pearson, who, as it happens, won CAA Rookie of the Week honors last week, have been playing together since fourth grade.
"It's fun," she said. "We didn't come here planning on doing it together as a package deal or anything, but I'm glad it worked out this way because it's very fun to keep playing with her."
Having played together for so long, people familiar with the two were curious if they were a duo that required a "package deal," needing to be together when committing to schools. They went through the process separately but reached the finish line with Drexel at the top of each of their lists.
Pearson, who, according to Creighton, actually committed to Drexel one day before her, was named the week's top rookie of the CAA a week before Creighton. It's funny how things turn out, and Creighton is very proud of her teammate and thought it was "pretty cool" that they won it in consecutive weeks.
With Pearson, in addition to Alexander and Wilson, the quartet has become a close group, and they are constantly supporting each other. They are all going through the same experiences for the first time together, after all.
"I think we're pretty closely knit together as freshmen because we all live together, we do experience things together, because we're all experiencing all the changes at the same time, but we all lead in different ways," Creighton said.
That togetherness and close nature is her favorite thing about playing at the collegiate level, at Drexel and specifically with her teammates.
"The team atmosphere [is my favorite aspect of it]," Creighton said. "You're with [your teammates] a lot, on the road or at practice with them every day. Everyone is there to pick each other up, and I really enjoy the family atmosphere of the team."
Although she may look up to the upperclassmen now, she may very soon be a leader of the team herself. She has clearly separated herself from the other freshmen and has been a player upon whom head coach Denise Dillon has relied heavily, evidenced by her high minutes total and being a starter since game 1.
For now, she is continuing to make those strides and to become as good a player for her team as she can, doing whatever is asked of her along the way. Whatever position the staff puts her in, she is certain that it is what's best for herself and for her team.
"I think however I can help the team is best, and the coaches know what's best so it's good," Creighton said.
She has confidence in her coaches, and clearly, they return the confidence they have invested in their freshman starter.