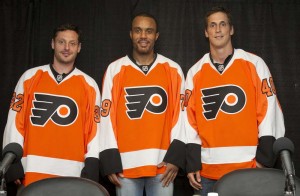 The Philadelphia Flyers experienced this past season what nobody in the City of Brotherly Love expected: regression. After tangoing with, and topping, the rival Pittsburgh Penguins in the first round of the 2012 Stanley Cup Playoffs just one season before, this year was a marked step backward.
The team underperformed at every position, and the result was an absence from the NHL postseason for the first time since 2007. Fans felt it was obvious: The Broad Street Bullies-turned-Babies needed some kind of jolt this offseason, and the front office decided to listen.
To many Canadians and a handful of American hockey fans, last Friday was basically a national holiday. At noon on July 5, the NHL free-agency period began, releasing a field of widely sought-after players.
However, the Flyers decided to make the biggest of their free-agent splashes ahead of the holiday when they signed former Tampa Bay Lightning center Vincent Lecavalier to a five-year, $22.5 million deal.
Lecavalier, 33, will join the Flyers this coming season after 14 years with the Lightning, a run that saw him lead his team to a Stanley Cup win in 2004 and operate as a key part of the franchise for his entire tenure.
Yet Lecavalier's best season of hockey — offensively speaking — came in the 2006-07 season when he scored 108 points in 82 games. The separation between then and now begs the question of how effective he will be when he steps into the orange and black this October.
If the Flyers had signed Lecavalier before the 2003-04 season, the franchise would have been in for quite a treat. But since that peak season six years ago, the four-time All-Star has seen his points per game decrease each year, save this year's lockout-shortened campaign.
Flyers General Manager Paul Holmgren made offense a priority with the team's big signing. After dropping nearly 0.5 goals per game from 2011-12 to last season, the team needed to try to find scoring from any outlet. After losing Danny Briere to the Montreal Canadiens, fans will undoubtedly question whether a 33-year-old on the downside of his career is what they asked for.
For now, it is a wait-and-prognosticate-and-see type of game.
Outside of the Lecavalier pickup, the Flyers made a pair of other notable signings, one via a trade in mid-June with the New York Islanders and one via a July 5 free-agency signing.
Both were signs of the times down at the Wells Fargo Center.
The first, a trade with the Islanders for veteran defenseman Mark Streit, was a backside-bolstering move. Last season, the Flyers allowed more goals than they scored for the first time since that hideous 2006-07 season. By signing Streit, Holmgren has made it clear that he does not want to see that happen again.
It is also an interesting move when one considers Chris Pronger's career trajectory. At 38, having played just 63 games in the last three seasons due to post-concussion symptoms, it seems that Pronger's time in the NHL is over. He has been advised by specialists not to return to hockey. With the Flyers assuming that they have lost their old veteran defensive presence for good, they now turn to Streit, hoping he will fill the gaping hole left by Pronger in these last few years.
The second move, and the Flyers' only big addition July 5, was the signing of veteran goaltender Ray Emery to a one-year, $1.6 million deal. Just 10 days after buying out Ilya Bryzgalov's contract, a free-agency bust if ever there was one in Philadelphia, the team added Emery to its bullpen of goaltenders.
Emery, 30, will likely compete with Steve Mason for the starting job next season, although Mason's advantageous youth and high potential compared to Emery will probably give him the edge for the job. Still, the signing marks a progression for the franchise away from the unsuccessful Bryzgalov era.
From an age-free perspective, basing these moves solely on the three players' respective hockey reputations, team chairman Ed Snider's proclamation that the Flyers are now a better team would seem realistic.
"We just think that we've got three great veteran players here to go with our kids," Snider said during a press conference at which he introduced all three acquisitions.
And veterans they certainly have: With an average age of 32.6, there are 30 years of NHL experience being added to the Flyers' roster, with 10 future years combined in the players' contracts.
Philadelphia could be the last stop for Streit and Lecavalier on their tours of duty. Emery, at 30, could possibly play the best hockey of his career in these next few seasons. All of this means that there is little room for growth with these three players. Still, they are expected to be immediate contributors to the Flyers' attempts to rebound and compete come October.
Hockey teams certainly lean on veteran leadership in the postseason. The big question remaining for the Flyers is not whether they have enough left in the tank but whether these three players will be able to help them return to prominence in the first place.