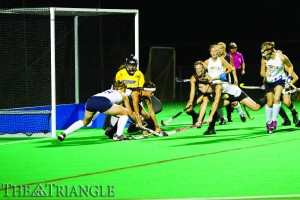 Freshman forward Christina Conrad fights for the ball in front of the Towson net during the Dragons 4-1 win of the Tigers at Buckley Field Sept. 30. The Fallst, Md. native recorded a career-high two goal in the game, earning her CAA Rookie of the Week Recognition.
It was another eventful week for the Drexel field hockey team. The Dragons kicked off a long stretch of home games consisting of five straight games at Buckley Field after returning from a loss on the road to Virginia Commonwealth (3-9, 1-3 Colonial Athletic Association).
The homestand, which will span over two weeks, started off strong. The Dragons (8-4, 2-1 CAA) handled visiting Towson University (6-5, 1-2 CAA), knocking them off 4-1 Sept. 30. Setting a season-high, Christina Conrad recorded two goals in the victory. Being a freshman, it also was a career high for the forward. Her pair of goals was the first two to find the net by the Dragons — each breaking what at the time were knotted scores.
Ashley Santee and Amanda Fleischut chipped in with one second-half goal each for insurance. It was all part of a strong finish from Drexel, which included nearly 50 minutes of scoreless action from Towson, as Dragons goalkeeper Kim Chiarelli held them in check after an early first goal.
"We came back really focused on how we were going to finish," head coach Denise Zelenak said after the game.
The matchup was the third CAA contest on the Dragons' schedule — the third consecutive. With the win over Towson, Drexel moved to 2-1 in the CAA, following a 1-1 split on their trip to Virginia against James Madison (4-6, 1-3 CAA) and VCU.
To close out the weekend, Drexel hosted the No. 11 team in the nation, the California-Berkeley Golden Bears, Oct. 2, which marked their first meeting since 2008. Drexel lost the well-played overtime contest to Cal-Berkley 2-3.
Trailing 2-1 late in the game, Drexel was able to tie it up on a goal from Santee with about five minutes remaining in the game. The goal from the senior marked her third consecutive game in which she found the back of the net. In overtime the Bears made quick work though, and scored roughly a minute and a half into the extra time. The loss dropped Drexel's record to 8-4.
Despite the loss, coach Zelenak was able to find some positives.
"It's really important to have this game right before ODU and William and Mary," she said. "Having it in the middle of conference play is a real test to see if we can change presses."
As Zelenak pointed out, the hard-fought overtime defeat could also provide an advantage down the road.
"It's great confidence for our girls knowing we can play in that game," she said.
Still, it was a game that they had a tremendous chance to win.
"We're pleased with our play, but not satisfied," Santee said. "It was a game we certainly could have won."
Being in that game and having a great shot at winning it, in addition to the Towson victory, the Dragons' dominance and preference to play on their home turf was on display. Drexel is now 6-1 at Buckley Field.
"Everyone prefers to compete at home," Santee said. "There's nothing quite like representing your school on the turf where you've dedicated endless hours through the heat of preseason and chill of 6 a.m. practices."
Fortunately for them, the homestand continues. This weekend's upcoming schedule of games includes the return of CAA play, starting off with Oct. 7 matchup against William and Mary (6-3, 1-2 CAA). Drexel has not lost to W&M since 2006.
Then the Dragons will face off against undefeated Old Dominion University (12-0, 3-0 CAA), the No. 1 team in the country, at home. The big matchup will take place Oct. 9 at noon. It is their first matchup since their double-overtime CAA Championships final contest last fall, which saw Drexel fall 1-0.
It's easy to look ahead to the big game on the horizon, but the Dragons are not looking past anyone, including their next game against William and Mary.
"We've learned our lesson this year in never taking a team lightly," Santee explained. "Our first concern is William and Mary. ODU is a big game every year, and there has been a lot of hype surrounding them this season. It's crucial for us to find an intensity level that allows us to go hard without interrupting our own style of play."
Those games were just the start of the field hockey events this past week. Off the field, it was just as eventful for the Drexel squad as it was on the field. For a strong week, including her two-goal performance against Towson, Conrad was named CAA field hockey Rookie of the Week. The freshman has totaled a team-leading 13 points, which includes five goals.
The recognition of success did not stop there. In the final piece of big field-hockey news for the week, Zelenak was named head coach of the USA Field Hockey Women's National Indoor Team.
Zelenak is in her 17thseason as head coach. Her resume includes 174 wins to date as the Dragons' head coach, and her work has helped shape Drexel into a nationally recognized and ranked program.
"I am honored to be working with USA Field Hockey and heading up the U.S. Senior Women's National Indoor Team," Zelenak said.
The honor was not much of a surprise to her players.
"I can't imagine anyone else more deserving," Santee said. "It's rare to have a coach like ours that has such dedication, passion and knowledge. The U.S. National Women's Indoor Team is going to be one lucky squad."
Zelenak and Drexel will try to keep the success rolling through this upcoming weekend.