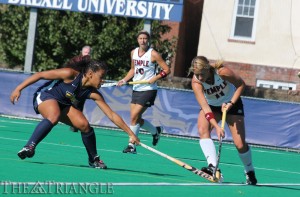 The Drexel field hockey team is coming off an Oct. 20 loss against rival Temple University. The Dragons fell to the Owls 1-0 in a very defensive game. Both teams were scoreless at halftime until Temple converted on a penalty stroke awarded in the 44th minute of the contest.
Junior goalie Jantien Gunter had a six-save night for the Dragons, but the one that got past her ended up as the difference. Gunter has held 12 teams to one goal or fewer this season and was named Colonial Athletic Association Player of the Week.
"We had been looking forward to this game since the beginning of the season. We knew Temple would come out strong, which they did," she said. "Unfortunately, we got a stroke called against us that gave Temple the lead, and somehow we couldn't get on the board."
Drexel is coming down to its final four games of the regular season and is currently in a three-way tie for third in the CAA. At the end of the regular season, the top four teams will make the CAA Tournament bracket.
"It's a very different season for us. We have 10 different players scoring and seven of those with three or more goals," head coach Denise Zelenak said. "We have high hopes that they will be confident in their abilities to finish, and we have players who want to ball when everything is on the line."
So far this season, we have seen a Drexel team that has scored six goals in a game twice, but we have also seen a Dragons team that has been shut out in three of the last five games.
"We definitely have had some difficulty scoring these last few games, but we are working hard on that during practice," Gunter said. "We are a team that doesn't give up until the last whistle, so I'm convinced that everything will start to click in time for us to make the CAA tournament."
Drexel will take on two conference opponents this weekend. First up is The College of William & Mary Oct. 25 at Vidas Field. Then the Dragons will make the journey to Harrisonburg, Va., to take on James Madison University Oct. 27 for an afternoon matchup.
These games will be very important for the Dragons to make a push for the postseason.
Zelenak kept it very simple when asked what her team will need to do to be successful against William & Mary and JMU: "We need to be prepared to play as hard as we can and take advantage of all our opportunities."
This message is trickling in the ears of the three seniors on Drexel's roster: Kristen Focht, Elise DiDonato and Lindsay McArdle.
"Our seniors realize that these last four games in regular season could potentially be their last field hockey games as Dragons," Gunter said. "But as a team, we will make sure that the seniors [will] have to put up with us a little longer and extend the season to CAAs and hopefully the NCAA Tournament."
Every loss has been a stepping stone for the Dragons as they try to build off another tough defeat. The Dragons need to find a way to spring themselves into the postseason, where anything can happen.