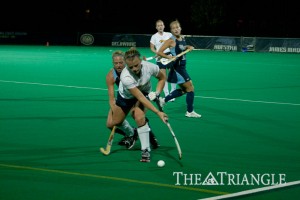 The Drexel field hockey team are welcoming the Lafayette Leopards to Buckley Field Sept. 16. The Dragons will be hosting their first game after recently completing a three-game road trip with a tough 2-0 loss against top-ranked Connecticut. It left the Dragons at a solid 4-2 on the season, but reeling a bit as of late.
After starting the season with three consecutive victories, they lost two of three games on the trip. Even though it was a tough week for the Dragons, there were some bright spots. Sophomore forward Elise DiDonato had two assists in the shutout win over Sacred Heart and goalie Kim Chiarelli had four saves in the big game at Connecticut.
Lafayette has had Drexel's number over the years, posting 21 wins to just four losses. Drexel will be trying to reverse its fortune this time around and start a winning streak heading into conference play.
The Dragons will stay home and face city rival Temple Sept. 18 before entering CAA play. The Dragons are hoping to use their home field advantage to lift them into the CAA schedule with some positive momentum.
These next two games will be tough, however, because Lafayette is also coming off a loss to a top team in the league, UNC. Lafayette know that they cannot afford to fall to 1-4 in the non-conference schedule, so Drexel will be facing a desperate Leopards opponent. They will then go on to face Temple, and there is never any need for extra motivation in the city rivalries. The Dragons have already beaten St. Joseph's and so they know what kind of energy is needed in this league.
Every one on the team and coaching staff knows it is imperative to be playing at the highest level entering the conference schedule, so these games are there to be a good tune up and measuring stick for the team. In order to win the conference, the team must be able to get up for every game on the schedule — so having a city rivalry game right before the CAA schedule is a very good move.
The Dragons have a very solid team this year and hopefully as the school year starts they will be able to continue their solid play and enter the CAA a confident bunch.