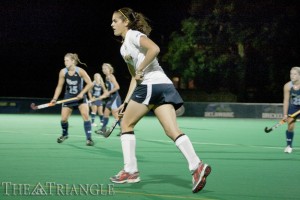 Former Dragon Chrisina Mastropaolo competes against the Old Dominion Lady Monarchs during her final season. She finished with the most points in Drexel history.
Coming off of two big non-conference wins, the Drexel field hockey squad is preparing to start Colonial Athletic Association play with two road tests against James Madison University and Virginia Commonwealth University.
The Dragons (6-2) are coming off of two one-goal victories against Lafayette and Temple.
"We are really pleased with our team's early performance," head coach Denise Zelenak said. "We are in a great position with a 6-2 record prior to conference play."
The first half versus Lafayette was hard fought, but it was not until the second half when the 0-0 tie was finally broken. Drexel freshman Christina Conrad broke free and chipped a ball past Lafayette goalkeeper Jessica Deutsch to give the Dragons a 1-0 lead.
"Conrad's goal was fantastic, but not surprising," Zelenak said. "She has started every game this year and is a solid addition to the squad."
Drexel's senior netminder Kim Chiarelli held off Lafayette to record her first career shutout.
The Dragons welcomed cross-city rival Temple University to Buckley Field Sept. 18. Drexel trailed at the half 1-0 after the Owls' Bridget Settles sneaked a ball past Chiarelli. The Dragons kept their composure and came out in the second half looking to take over.
Junior Amanda Fleischut helped the Dragons pull even eleven minutes into the half by juking through the Temple defense and putting one in the back of the net.
"We can make strategic adjustments midgame," Zelenak said of her team's second-half performance. "We can also create positive results in high-pressure situations."
With two minutes left, Fleischut came up big again by scoring the game winner, assisted by Ashley Santee and Monica Baick. Chiarelli won her second game of the season and stopped four shots.
The team will travel to Harrisonburg, Va. Sept. 23 to take on James Madison, who has struggled early on, but are coming off of two close wins.
"Honestly, past wins and losses don't matter, everyone starts conference play with a clean slate," Zelenak said.
The Dragons know that they must improve to have success in the CAA, starting with the Dukes.
"We will continue to build on our individual skills, strengthen out out-letting, increase our corner scoring, and most importantly we will focus on one game at a time," Zelenak said.
Following the matchup with James Madison, Drexel will stay in Virginia and head to Richmond to face Virginia Commonwealth University. The Rams have had a tough time early on this season as well, with a very challenging non-conference schedule, but Zelenak wants to make sure her team overlooks no one.
"We'll tell our players that any team can win on any given day and that it's our job to practice harder and play better than our opponents," she said.
The CAA is a very tough league this year as it has been for the past few years. The conference boasts the nation's current No. 1 team in Old Dominion. That being said, the Dragons won't be intimidated and are meticulously preparing for their tough road ahead.
"I am proud of how our team shows up to each practice energized and excited to play field hockey," Zelenak said. "We ask a lot of our players, and they consistently step up and usually surpass our expectations."
The CAA is a very strong conference, but Drexel is no doubt a team to be feared. Of course, Zelenak knows that her team must work for every single victory.
"There are no easy wins in conference play," she said.