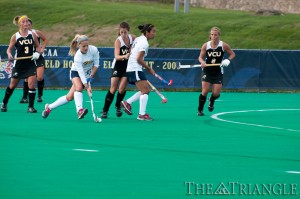 Sophomore midflielder Lindsay McArdle brings the ball up the field along with senior midfielder Monica Baick (6) against Virginia Commonwealth University. McArdle was named to the Colonial Athletic Association's all-rookie team.
37, 32 and 25 — those are the point totals for Drexel's top three field hockey scorers last season. Christina Mastropaolo, Susan Ciufo and Kim Tunell, who rank one to three as the top scorers in 2010, each put up those numbers in their final season as Dragons.On top of last season's scoring statistics, there are many other notable accomplishments that the Drexel field hockey team will miss, namely those of Mastropaolo.
The single-game scoring record of five goals belongs to Mastropaolo;  the single-season scoring record of 29 goals belongs to Mastropaolo, with the second (21) and third (19) spots on that list occupied by Ciufo. Mastropaolo also owns the program's top spot in both single-season points (69) and game-winning goals (10).
Oh, and by the way, she also owns two nice, shiny trophies with her name on them next to the words "Colonial Athletic Association Player of the Year" — one from 2009 and one from 2010.
The long and short of it is, Drexel will rely heavily on a revamped game plan that suits a refurbished roster consisting of nine incoming freshmen and five returning players with National Collegiate Athletic Association Tournament experience from a 2009 team that reached the Elite 8, where the Dragons lost to eventual national champion Maryland, among others.
Now that that's out of the way, those accomplishments have the ring of a program on the cusp of national stardom — if not already achieved — and, as with any recurring powerhouse program, when top talent graduates, highly touted recruits are always waiting in the wings to prove they can sustain and even build upon the previous year's — or years' — success. Head coach Denise Zelenak is fully confident that her players are ready and willing to do what it takes to accomplish this feat.
"Those three seniors, as well as the other five from 2010, all left a strong sense of pride, commitment and competitiveness with all our returners," Zelenak said. "I feel with their influence, our program has a great foundation on which to build. … We have been very pleased with our preseason play. The team came into camp in shape and ready to compete. It is exciting to watch our style of play fit the new personnel."
The Dragons are heading into a 2011 season with lots of big expectations being placed on their shoulders. In 2011, Drexel had another outstanding campaign with an overall record of 15-5, earning the right to host the CAA Championships for a second year in a row. Zelenak's bunch also earned another berth into the conference finals, although her team eventually lost to Old Dominion in double overtime.
Drexel has been picked as the No. 2 team in the conference as well as the No. 18 team in the National Field Hockey Collegiate Association rankings. This means that not only do their coach — and myself — feel that this roster can be successful, but so does the rest of the nation.
"Our goals are the same as every season: improve our skills daily, play every minute of every game as hard as we can and of course making a run for CAA Championships," Zelenak said. "Then, anything is possible."
Some of the key players to look out for on Zelenak's new-look crew are led by junior midfielder Amanda Fleischut, who is coming out of a 2010 season in which she was the fourth leading scorer on the roster with 17 total points. In addition, 2010 All-Rookie performers Kristen Focht and midfielder Lindsay McArdle will be leading the charge. Fleischut is also coming off an adventurous offseason, during which she was a member of the New Jersey High Performance Team that captured Gold at the Senior Women's National Championship.
The Dragons' first game will take place Aug. 26 when they welcome city rival St. Joseph's University to Buckley Field at 4 p.m. Last season, the Dragons topped the Hawks 7-1 in a Sept. 1 matchup, also at Buckley. Another interesting statistic? The Dragons could have 21 consecutive wins against Pennsylvania opponents if they defeat the Hawks once again.
"Saint Joseph's likes to play fast through their midfield and forwards and can be very dangerous if you take them lightly," Zelenak said. "We want to have high tempo with our free hits, value our ball possessions, communicate between all the lines, high percentage results in our 16s – defensive out–letting – as well as, in the offensive 25-yard area — red zone — and continue to build our continuity and confidence. Whistle to horn, our goal is to play hard."