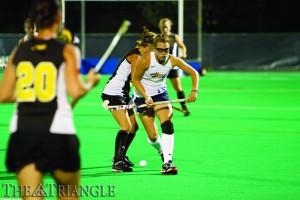 The Drexel field hockey team is preparing for their final game of a five-game homestand in which the impact of wins and losses appears to be extremely crucial on the possible outcome of the Dragons' regular season, as well as postseason possibilities.
Prior to their upcoming Oct. 16 matchup with the current No. 20 team in the nation, Louisville (8-5, 2-2 Big East Conference), the Dragons won an essential Colonial Athletic Association battle against William & Mary (6-6, 1-4 CAA) and fell to the nation's No. 1 team, Old Dominion (14-0, 5-0 CAA).
The Dragons (9-5, 3-2 CAA) welcomed the Tribe to Buckley Field Oct. 7 and were in need of a large, confident win. With two clutch scoring plays coming off the sticks of two of the team's experienced seniors, forward Ashley Santee who scored the first, and back Sofia Sanguinette, who put the game winner in the back of the net. The Dragons were able to top William & Mary 2-1 to improve their record to 7-1 at home and give the team some momentum heading into their next game with the Lady Monarchs.
"It was a big win for us," Head Coach Denise Zelenak said. "Obviously the VCU loss kind of took a little wind out of our sails, and even though [William & Mary] was a tight game, we played the game we were practicing. It was a really big week of practice. We tried to change a couple of things to get more confidence back; try to score. It was a big turning point for us, especially going into ODU."
With the steam of a two-game winning streak behind them and senior Kim Chiarelli playing well in net, the Dragons prepared to take on the No. 1 team in the country, and their CAA rival, Old Dominion, at Buckley Turf Oct. 9.
The offensive-minded Monarchs outshot Drexel 24-3 in an eventual 2-1 loss. Although the loss dropped the Dragons to 3-2 in conference play, they can walk away with their heads held high knowing that they can depend on their goaltender — Chiarelli faced a career-high 24 shots and stopped a career-high 22 — and their defense, which also aided in holding the Monarchs to a season-low-tying two goals scored. In fact, the Dragons managed to head into halftime tied with Old Dominion 1-1, but they gave up the lead late in the second half off a penalty.
"When we prepped, we were prepping most of the week for William & Mary, and Saturday was the first day we allowed them to actually look at Old Dominion and then just make those adjustments," Zelenak said. "The strategy was a little bit different. We did start out with our regular game plan, but we did have things set up if certain players on their team started to pressure us when we didn't want it that way.
"The girls played really hard, it was definitely a defensive game, but the fact that we were able to hold them off and most of the teams in the country haven't been able to was exciting. Plus you hopefully get to see them again."
Another thing that highlighted this game was the aforementioned No. 1 national ranking of the Monarchs, which would scare off any other team, but not Drexel, according to Zelenak. She feels that No. 1 is a large number, but inside the conference everyone is 0-0 to start play, and "everybody's going to bring it."
As the Dragons prepare for their final five games of the regular season, they look toward a home matchup with the No. 20 Cardinals — Louisville plays in a style that resembles that of the University of California as well as ODU, so the Dragons are experienced against it — but another way to look at it is a big-name program traveling to Philadelphia to play on Drexel turf.
"It's a big compliment," Zelenak said. "Since we've gotten the turf, our team has definitely turned around. We've really been pushing, being in the top 10 the past few years and getting a reputation. Philadelphia is a great place to come. People that are big schools outside, all over the country, they want to come back here and play games in Philly … Louisville's fun. It's another good team out of conference to prep us for conference."
Zelenak mentioned that she and her staff knew that their squad would be one of the youngest in recent memory this season, and that their schedule was also tougher than ever before. Her idea behind it all was to use this type of competition to prep her team for the conference competition for this season as well as down the road for a possible championship.
That all begins with the game against Louisville, and according to Zelenak, her team knows exactly what they need to do and how they need to do it. If they play within themselves and keep the play away from their defensive zone, they will have a shot to come out on top.
If the Dragons defeat the Cardinals, they could have enough momentum, and, as Zelenak said, if they make a run, there could be more postseason ahead even after the CAA Championships.