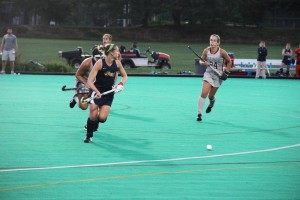 The Drexel field hockey team is looking to have a strong season for the third consecutive year. In 2012 the Dragons beat Northeastern University to win the program's first Colonial Athletic Association Championship, and in 2013, the Dragons came close to appearing in yet another championship game; however, Northeastern obtained their revenge and beat Drexel in the semifinals.
This year the Dragons will be featuring a roster full of upperclassmen, mainly seniors, who are focused on bringing Drexel back to championship form.
You can tell whether a team is hungry to win by the way they enter into preseason. Teams who have players returning out of shape are always behind and normally this shows that the players aren't as hungry.
The opposite can be said about the Dragons. The team came back to preseason ready and hungry to play championship field hockey.
"The team came into preseason fit and ready to compete," head coach Denise Zelenak said, impressed with her team's preparedness.
There is no doubt the Dragons will need to be focused and do everything they can to be ready to play. There are high expectations for this squad both from the coaching staff and players, but also from the preseason CAA standings, which has the Dragons as the second seed only behind the University of Delaware Blue Hens.
Delaware is returning as the CAA Player of the Year and coming off a solid year, so it's not much of a surprise that they were slated as the No. 1 seed. The Dragons, however, will not be far behind as they are returning seniors Christina Conrad and Jantien Gunter, and junior Lauren Hibshman, all of whom were named to the All-CAA preseason team.
Conrad was tied last season for most points on the team with 18 overall. She also logged 1200 minutes, playing in all 20 games. Gunter, the defensive anchor for the Dragons, also played in all 20 games and was tied for most shutouts in goal with five. Hibshman was a key part of the Dragons' midfield a season ago, while also recording seven assists. All three have been consistently exceptional for Drexel and will need to have another quality season to lead the Dragons to another CAA Championship and hopefully an NCAA tournament appearance.
Many will look at this and assume that these three players are the life blood of the team, but the Dragons are returning three other players who registered at least 10 points last season. There is no doubt that this team is built to win. Ten returning seniors and much more experienced leadership on the team will make it tough for opponents to think up a game plan.
There are also two incoming freshmen who will provide great depth for the team. Kathryn Boyce and Cailean Meredith join the squad this season, and just because they are freshmen does not mean Zelenak doesn't have confidence in them.
"We hope that Boyce will help push our two returning keepers and add depth to an already strong position, and Meredith brings a wealth of experience," Zelenak said.
Boyce will get to learn from the senior keepers, especially Gunter, and use competition in practices to sharpen her own skills. Meredith is an interesting player because she participated in Canadian junior national programs, which will no doubt help her in the next stage of her playing career at Drexel.
The season for the Dragons began Aug. 20 with a scrimmage against Lafayette College. This was a game to get the players back in the thick of playing against outside competition.
"It's one thing to perform against your own teammates," Zelenak said, "but you have to be able to perform against different styles of play and make adjustments."
It was key for the Dragons to begin building continuity within the team and getting each player on the same page. Scrimmages such as this one don't mean much to the stat books — Lafayette didn't even wear their regular jerseys — but it is important in getting a team rolling in the right direction.
The Dragons open up the regular season at Buckley Field Aug. 29 against Virginia Commonwealth University. The first game between Drexel and a fellow CAA team will take place Oct. 10 against Hofstra University, which will also be home at Buckley Field.