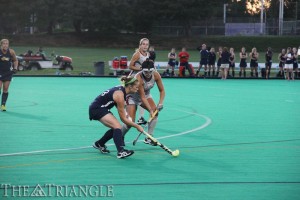 In order to be the best you have to beat the best. To challenge themselves early on, the Drexel field hockey team scheduled two top-10 teams in the country in the first four games of the season. Head coach Denise Zelenak knew exactly what she was getting herself into.
"Scheduling strong teams early in the season helps our team develop to the level necessary to compete and be successful in the [Colonial Athletic Association]," Zelenak said.
To start the year, the Dragons traveled to North Carolina to take on Indiana University and Duke University. Drexel split the games, winning against Indiana 2-0 and taking a tough 4-1 loss to then-No. 10 Duke.
The Dragons then earned a 2-1 win at home against city rival Saint Joseph's University. The following week they traveled to College Park, Md., to take on the University of Maryland, ranked No. 2 in the nation. Drexel played well early on before giving up a few second-half goals to lose 8-3.
Although Drexel did not win against Maryland or Duke, senior co-captain Lindsay McArdle understands that these games will help their team in the long run.
"It's games like Maryland and Duke that show us important details we need to work on before heading into CAA competitions," McArdle said.
The Dragons then kept their record perfect at home, beating Bucknell University with a score of 2-0.
Although Drexel has a record of 4-2, the beginning of the season is more about getting the team to click than the wins and losses.
"We were getting into the flow of a new team and new systems," McArdle said. "We have new faces that have been doing a great job picking up the systems quickly."
Zelenak has been doing this for 19 years; she doesn't seem fazed by early losses as long as the team learned from it.
"They have the wonderful ability to take an experience, learn from it, and then work on applying it to the next practice and game," Zelenak said, "always working to improve their skills and knowledge."
This season for the Dragons is a marathon and not a sprint. The team has its goals in place: winning the CAA again and making it to the Final Four for the first time in school history.
"We just focus on our next practice [or] game, working to improve and be ready to play our best. The overall goal is there and keeps everyone motivated and pushing forward," Zelenak said. "But our goal right now is our Kent State and Iowa weekend."
The Dragons traveled to Ohio to take on Kent State University Sept. 19 and Iowa University Sept. 21. The Dragons will get to test themselves against another top-10 team, as Iowa is currently ranked No. 10 in the nation.
Drexel started off the road trip with a 6-1 win over Kent State. Chloe Pachuilo, who scored a hat trick for Drexel, led the Dragons to victory.
In the next stretch of games, McArdle wants her teammates to keep improving and leave everything on the field.
"We have a talented group of girls, and it's invigorating to see this season coming together," McArdle said. "I think everyone is heading in a good direction as far as skill and level of competition.
"The best part about this year so far is that we are adjusting things and we have been playing well together. It's exciting to see us reaching for this goal together."