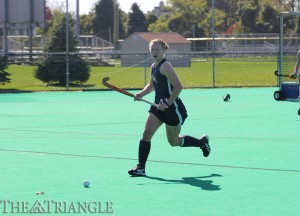 The Drexel field hockey team found itself in a familiar position Nov. 3. After a tough loss Nov. 1 to their archrival, the University of Delaware, the Dragons needed to bounce back and get a win.
Drexel's hope for another Colonial Athletic Association Tournament at Vidas Field was gone after a 4-0 loss to the Blue Hens, but a win over Towson University Nov. 3 would give the Dragons the No. 2 seed in the conference.
It marked the final home game of the season for Drexel and would be the last game at Vidas Field for seniors Lindsay McArdle, Elise DiDonato and Kristen Focht. The Dragons jumped out to a 3-0 lead at halftime thanks to two goals from McArdle.
Danielle Grassi would add another goal in the second half to give Drexel a 4-0 win over the Tigers.
"Towson was our Senior Day, and the team came out strong and excited to finish our regular season with a win," Focht said. "It was a good team win for us and great to get back on track."
Just a couple days earlier, the highly-anticipated matchup between Drexel and 19th-ranked Delaware was to determine who would receive home-field advantage in the CAA Tournament.
The game was looking to be a barnburner as Delaware took a 1-0 lead heading into halftime, but the Blue Hens then exploded with three goals in the second half to complete a 4-0 shutout.
"Knowing the type of scorers they have, we gave them too many opportunities in the red zone," head coach Denise Zelenak said. "Since we know we didn't play our best, we have high hopes that we will get to face them again at CAAs."
In an up-and-down season, Zelenak is just glad that her team has the chance to make some noise in the postseason.
"I am proud of our squad and how we played this season. We forgot that last year was a roller coaster with similar one-goal games and last-minute wins," Zelenak said. "[Making the] postseason is an honor, and you can never assume this is where you will be in November. You have to work for it."
With the win over Towson, Drexel earned the No. 2 seed for the tournament hosted by Delaware, and the Dragons will take on Northeastern University in the first round. Earlier this season, the Huskies defeated Drexel 1-0 in Boston, but this time around, the Dragons hope to avenge their Oct. 11 loss.
"We are excited to play Northeastern again. It was a close game and a tough loss," Zelenak said. "Redemption is the word I think the team would use to describe the matchup."
If the Dragons can beat the Huskies Nov. 8, they will most likely face the Blue Hens Sunday afternoon for the CAA championship. Because only one senior graduated from last year's CAA championship squad, many still remember what it will take to win.
"Postseason is always exciting and intense, so we just need to make sure we come out strong and willing to leave it all on the field," Focht said.