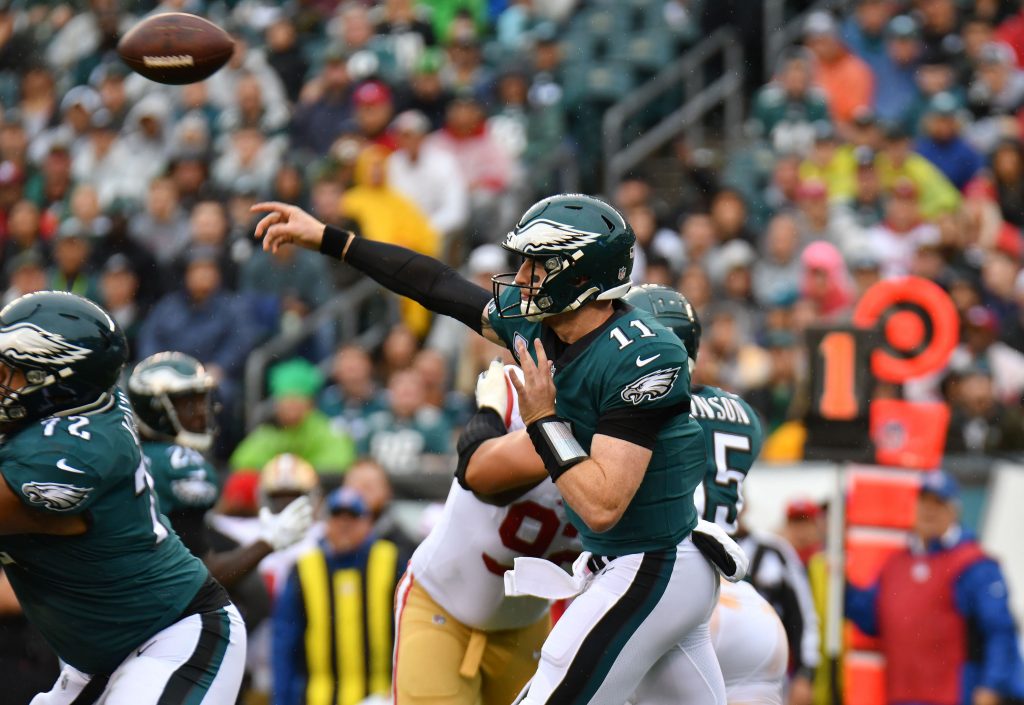 I can only think of one other team that has gone through the same turmoil that Philadelphia Eagles fans have gone through, and that's the 0-8 Cleveland Browns. Now, their future this season doesn't look so bright, and I hope one day they succeed, but for now, the turmoil that Eagles fans have dealt with is finally over. The currently 7-1 Eagles are off to their best start in a very long time.
At the beginning of the season, fans didn't know what to expect with such bold moves in the offseason. The drafting of Carson Wentz in the first round two seasons ago didn't lead to the best season, as the Eagles finished 7-9 in 2016. This uncertainty was matched this 2017 season with the acquisition of both Alshon Jeffery and Torrey Smith, two powerhouse receivers added to Eagles offense. The addition of LeGarrette Blount to their running game made this season look even more hopeful. Trading Jordan Matthews to the Buffalo Bills was also a risky move, as it took away our best receiver from the season before.
But, all of this paid off when we saw the Eagles finally play a game. Their match against the Washington Redskins Sept. 10 showed just how explosive the offense really is. Carson Wentz threw for 307 yards and two touchdowns, and almost every receiver and running back contributed to the win. The Eagles did lose their next game against the Kansas City Chiefs, but after that, it was straight sailing. They won the next six games, with the highlight of the season being their game against the New York Giants Sept. 24. With seconds to spare and the game tied up at 24-24, rookie kicker Jake Elliott, who is filling in for the injured Caleb Sturgis, hit a 61-yard field goal for the win. This gave us hope for the rest of the season because if we can win with a rookie kicker, we can do anything. And boy, were we right.
In addition to such a stellar record, players on the team did some spectacular things as well. Carson Wentz is tied for the most touchdowns thrown in the National Football League this season, and tight end Zach Ertz has caught the most touchdowns out of the TEs in the league this season. Jake Elliott has also hit the longest field goal of the season out of any kicker. On the defensive side, no players have had spectacular stats, but when the time comes, our defensive line can pull out a sack or our secondary can get an interception or a fumble. All in all, this season has gone tremendously well, and I think it's pretty safe to say that if you ask any Eagles fan, they will be relieved that the suffering is over.