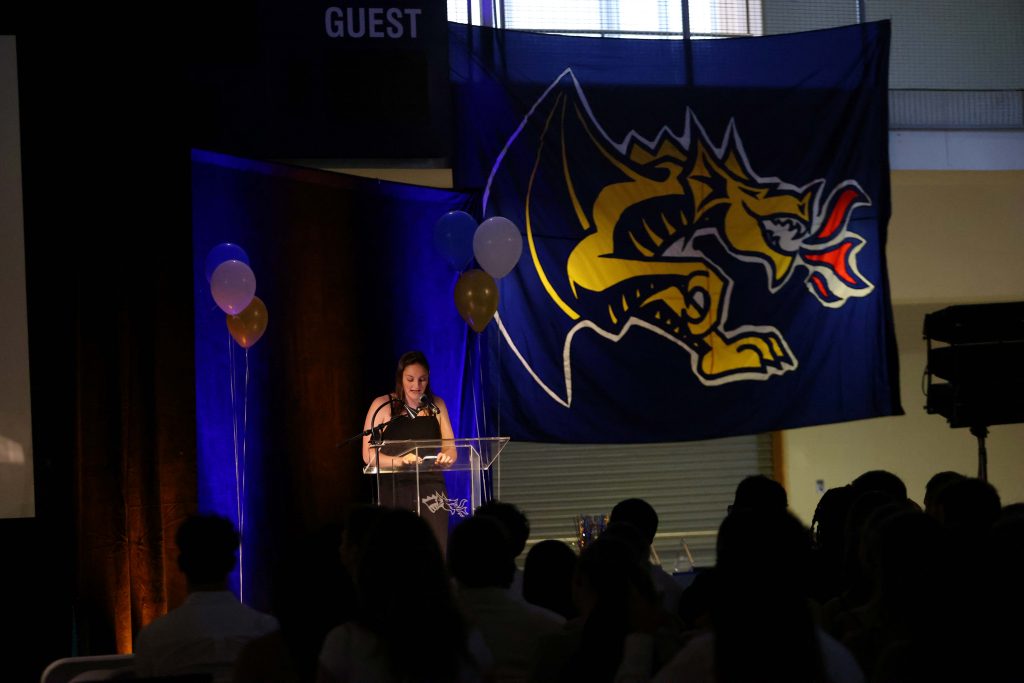 Drexel Athletics held their annual 'Best of Blue and Gold' awards night on Monday evening,
with Matias Knudsen of men's squash and Keishana Washington of women's basketball winning
the Semanik awards.
The John and Mary Semanik awards are given to the male and female
senior student-athletes who best display Drexel's scholarship and athletics ideals. Mr. and Mrs.
Semanik are the former Drexel Directors of Athletics.
Knudsen, a fifth-year MBA student from Bogotá, Colombia, was a CSA First Team All-
American and had a 15-4 overall season record. He was also one of three finalists for the
Skillman Award, the highest honor in men's collegiate squash. He was also an integral part of
Drexel men's squash highest-ever finish at the National Championships, finishing fifth.
In his acceptance speech, Knudsen said, "Receiving the John Semanik Award is not only a
personal achievement but a testament to the support and guidance I have received from everyone around me."
He ended his speech by urging his fellow Dragons to make the most of their time as student-
athletes, and announcing that he will be pursuing a career in professional squash. "I want to
encourage you all to appreciate this experience as much as I have, because the closer I get to
graduating, the more I realize how much I love this place, and how much it means to me to be
called a Dragon."
Washington was a stand-out player in college basketball this season, with some of her
achievements including scoring a career-high 43 points at Fordham and ranking second
nationally with a 27.7 points per game average.
Washington was also given an honorable mention All-American by the WBCA, AP and
USBWA, and earned Second Team Academic All-American honors. Post-season, she signed a
training camp contract with the WNBA team, the Minnesota Lynx. Washington used her acceptance speech to praise her coaching staff and teammates, and to
announce that her basketball career will be continuing post-graduation in Poland.
Other honorable awards of the night included Men's Team of the Year, given to rowing. The
Varsity 8+ won the Dad Vail Regatta, and Drexel recorded historic wins at the Head of the
Charles Regatta earlier in the season.
Women's Team of the Year was awarded to lacrosse, who went 12-6 overall and earned an at-
large bid to the NCAA championships, their third appearance in a row.
Male Performance of the Year was won by soccer's Harrison Coron, for his four goals scored
against the College of Charleston. Washington picked up another award for Female Performance of the Year for her 42-point game against Penn State.
Casey Touey of women's soccer won Play of the Year for her goal with 1:08 left on the clock
against CAA preseason favorites, UNCW.
Women's tennis won Victory of the Year, for their upset against second-seed Delaware in the
CAA Championship quarterfinals. The Dragons became the first seventh-seeded team to advance to the semifinals of the CAA tournament.
Women's soccer won Coaching Staff of the Year for their historic 10-match unbeaten string at
the start of the season.