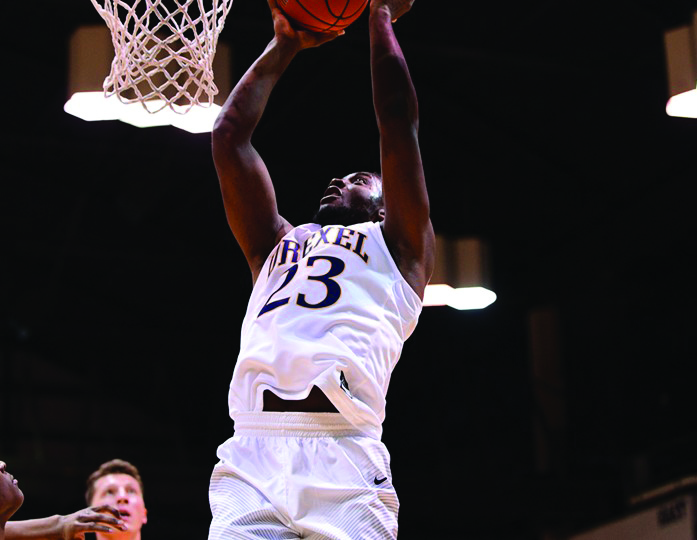 While the rest of the Drexel University campus slogged along in the mire of midterms week, the men's basketball team saw a much more advanced stage of the season last week. Just two weeks remain before league playoffs, and while they are once again at the bottom of the Colonial Athletic Association standings, this young team has the talent and work ethic to perhaps surprise a top-tier team if taken casually. But such a move will require some momentum, something that takes a few wins strung together to establish.
At first glance, this week was a very alluring one (if such a thing exists for Drexel fans), with matchups against fellow bottom dweller the University of Delaware Feb. 16 and middle-of-the-pack Elon University Feb. 18 presenting themselves as possibilities to accrue a pair of successive victories, a feat that hasn't been achieved since December non-league wins against Kean University and Quinnipiac University.
Thursday's contest with Delaware also promised a chance for a season sweep against a rival, but when the ball was tossed up for the opening tip the focus just didn't seem to be there for the Dragons. A sloppy first nine minutes left them trailing by seven right away, but a flurry of offense from graduate student John Moran and freshman Kurk Lee (each of the 11 unanswered points were either scored or assisted by the guard tandem) pulled them back into contention and into a neck and neck battle for a large majority of the game's remainder.
As the game hurtled to its conclusion, a few things became painfully apparent to a Drexel fan. The first was a continued carelessness with the ball, an attitude that manifested itself in an astounding 20 turnovers for the night. As so often seems to be the case, their opponent was not shy about cashing in on these mistakes: the Blue Hens scored well over a third of their points off of turnovers.
The second was a continued lack of rim protection, usually a strength of this big-laden team. Delaware dominated inside, outscoring Drexel 46-22 in the painted area.
However, the game's storylines were not all bad for the Dragons. As has been the case many nights this year, Kurk Lee stole the show. He led his group with 21 points. The 17:45 mark in the second half, with a dime to senior big man Austin Williams, also marked history for the program, as Lee now stands alone as the leader for assists in a freshman campaign.
Lee also played a crucial part in the game's final moments, setting up his teammate Moran with a three that allowed Drexel to pull ahead by two with 32 seconds remaining. That said, his team-high of six turnovers ultimately did their part to doom the Dragons in the long run, keeping Delaware in contention during a game in which they had no business doing so.
This manifested itself in some heroics for the home team in the game's final seconds. Just days before his high school teammate Derrick Jones Jr. would step into the national conscience as a participant in the NBA Dunk contest, freshman Ryan Daly decided to grab some spotlight for himself, draining what would prove to be the game-winning three with just 12 seconds remaining. The final: 68-67, Blue Hens.
Drexel would not have much better luck when they played Elon Feb. 18. A 14 point halftime deficit left some fearing that it would get out of hand, given that the Dragons would only score 18 in the period, but to their credit they battled back and brought it back to within 10 in the second half. The result was still another loss, this one by a nine point margin of 56-65.
Now, with one week of regular season games remaining before the CAA playoffs, the Dragons have managed to play themselves into a less than advantageous position once again this year. Their overall record has dipped to 9-20, and they have taken sole possession of last place with a CAA record of 3-13.
Their last two games, however, still have their fair share of meaning, as Head Coach Zach Spiker looks for his young group to head into the offseason with a good taste in their mouth going into year two of his regime.
Also to note: the first, a game with James Madison University Feb. 23 marks the last time that five seniors will step foot inside the Daskalakis Athletic Center for a college game. Make sure to support and show your thanks for their years of service if you are able.