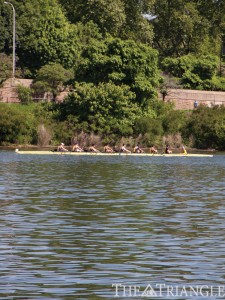 After a one-boat bronze-medal appearance for the men's varsity four in the 2011 Intercollegiate Rowing Association National Championships, the Drexel University men's crew team came back this season hungry for more.
This week, Drexel was selected as one of 18 universities across the coun- try to compete in the 2012 IRA National Championships. The events will take place May 31 through June 2 on the Cooper River in Cherry Hill, N.J. This marks the first time in school history that the Dragons earned a team bid to the Championships.
Drexel will compete against some of the best crew teams in the nation, such as Cornell University, Harvard University, Stanford University, the U.S. Naval Academy, the University of Washington and the University of Wisconsin.
"This is a huge step for our team," Paul Savell, director of rowing, said. "The three extra weeks of training we are doing to prepare for this race is invaluable. We will look forward to lining up with the fastest teams in the country."
Savell will guide four boats at the Championships, with the heats beginning May 31. Depending on how the Dragons finish in each event, the following heats would either be later in the afternoon May 31 in the repechages or June 1 for the semifinals.
The varsity eight on the Lois Krall boat, the second varsity eight on the Annette Pennoni boat, the freshman eight on the Peggy Greenawalt boat, and the open four on the Tobey and Kim Oxholm boat all finished sixth in their respective races.
The first and second varsity eight boats will compete again June 2.
In the team's last competition May 11- 12, the Dragons finished second overall at the Aberdeen Dad Vail Regatta, including a bronze medal for the varsity eight, a fourth-place finish for the second varsity eight, and a silver medal for the freshman eight.
Freshman Victoria Kenion of Winchester, Mass., this season's coxswain for the freshman eight, will be the only female Dragon competing at the IRA National Championships.
Drexel looks to make a splash in the national collegiate crew circuit on the Cooper River this weekend. With such historic programs racing right next to them, the Dragons await their opportunity for the oars to hit the water.