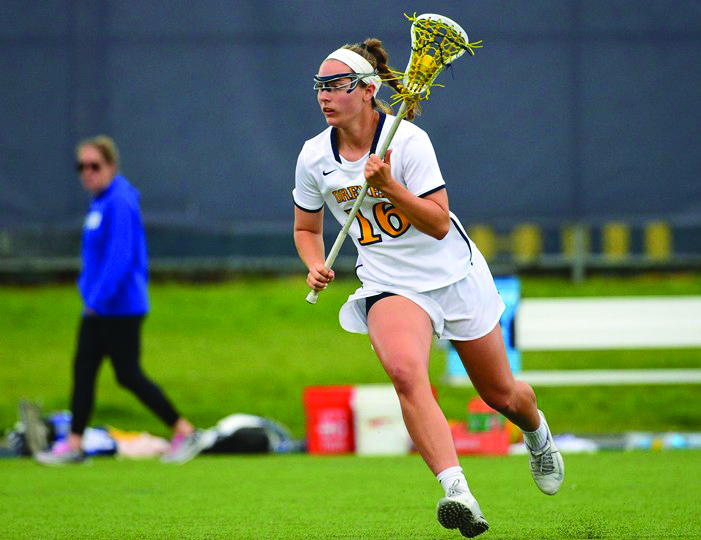 The Drexel University women's lacrosse team went 1-1 last weekend, losing 15-2 at Elon University April 14 and winning 12-8 on the road against the College of William & Mary April 16.
In the first game of the weekend, Drexel was completely outplayed by Elon. Junior Nadia Pelham-Lacey scored the first goal of the day for the Dragons, tying the score at 1-1 with 20:30 to go in the first half. However, after Pelham-Lacey's score, the Phoenix went on a four-goal streak.
That streak was ended by Drexel senior Devin Nihill, who scored the Dragons' second goal of the game with 6:53 remaining in the first half. That would be Drexel's final goal, though, and Elon scored ten more times after that to finish with a dominant 15-2 victory.
Looking to bounce back from their loss to the Phoenix, the Dragons took the field against the William & Mary Tribe on Sunday. Drexel managed to flip the script from two days prior, as this time it would be the Dragons who would dominate. Pelham-Lacey again scored Drexel's first goal of the game, and less than a minute later Nihill scored to give Drexel an early 2-0 lead.
After the Tribe got on the board to make it 2-1, Drexel ripped off seven consecutive goals, which was the team's second longest scoring streak of the season. Senior Caroline Thiele got the run started for the Dragons, scoring at the 15:04 mark in the first half. After Thiele, Nihill and Pelham-Lacey both scored twice, and junior Alex Beilman and senior Lisa Rogers each had one goal.
Heading into halftime, the Dragons were boasting a 9-1 lead. However, the Tribe did their best to get back into the game in the second half. William & Mary scored five straight times at the beginning of the second half, cutting Drexel's lead to 9-6.
Pelham-Lacey ended the Tribe's run with a goal at the 15:53 mark in the second half. After the Tribe responded to Pelham-Lacey's goal, Beilman scored for Drexel, which made the count 11-7 in favor of the Dragons with just 1:21 remaining in the game.
Following Beilman's goal, sophomore Lindsay Shettle capped things off for the Dragons, scoring a goal with 26 seconds to go. The Tribe scored again before the final buzzer, but the Dragons got the last laugh as they picked up a 12-8 road win.
Drexel improved to 7-6 on the season and to 2-1 in the Colonial Athletic Association. The Dragons have two huge games coming up, with the first being at home against No. 16 James Madison University April 21 at 5 p.m., and the second on the road against No. 17 Towson  April 23 at noon.