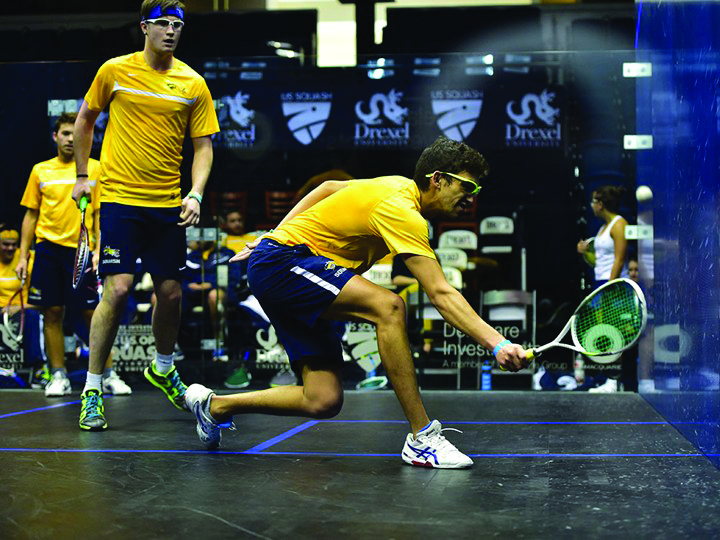 Members of the Drexel University men's and women's squash teams participated in the 2017 Individual Championships in Hanover, New Hampshire from March 3 to 5.
Junior Atticus Kelly finished first in the consolation finals of the Molloy Division West. He won in a tough five set battle as a strong ending to cap off the season.
"Atticus played three great matches at the individuals. It was good to see him finish this way as he has been injury struck throughout the season and could never play at his best, which saw him drop to  No. 6 on the team," Head Coach John White said.
Junior Luke Willemse made it to the consolation finals of the Molloy Division East. He fell in five sets to his United States Naval Academy opponent after taking a 2-1 lead through three sets.
Senior Michael Thompson made it to the semifinals of the Molloy Division North but fell to his opponent in three sets. Sophomore Bransten Ming, sophomore Omar El Atmas and freshman Lucas Rousselet also competed.
As for the women, junior Ryan Morgan came in second in the Holleran Division West finals. Morgan fell in four sets to her Columbia University opponent. She led after one game but then dropped the last three.
"[We played] pretty well overall. It is quite tough for the players to play the individuals after the team nationals have been played. I was happy with how they played and represented Drexel during the weekend. It gave a few of the players a chance to play against players that they have not played during the season," Coach White said.
Sophomore Fiona Power made it to the consolation semifinals of the Holleran Division South, but lost in a five set effort.
Senior Mary Fung-A-Fat, freshman Anna Hughes and junior Hayley Hughes also competed.
The individual championships closed out the 2016–17 season for the Dragons.