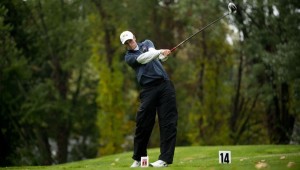 The drought continued through another turning of the leaves.
The Drexel men's golf team finished 11th at the Old Dominion University/Outer Banks Invitational, shooting a three-round total of 893 Oct. 19-21. Fellow Colonial Athletic Association member James Madison University won the invitational with a combined score of 858, just six strokes over par.
Head coach Mike Dynda's program hasn't won an invitational since Sep. 24, 2012, when the Dragons won the Swarthmore Invitational.
Discounting the upcoming City 6 Championship, the team will now have to wait until the spring season, which begins in March, to have another chance at remedying the extensive winless streak.
The Dragons began the weekend with a potentially promising first-round score of 296, finishing the first day of the invitational in fourth place, just two strokes behind co-leaders University of Maryland and Drake University. Four of Drexel's five golfers shot a 75 or better, and it looked as if the Dragons were poised to stay competitive all weekend long.
But a disappointing second round saw the team fall back to earth Oct. 20. Notably, freshman Adam Schneider shot a second-round 87, 12 strokes worse than his first-round 75.
Freshman Adam Mistretta and sophomore Yoseph Dance also added strokes in their second rounds, and junior Chris Crawford's exceptional second-round 70 wasn't enough to keep the team afloat in the hyper-competitive field.
Crawford finished tied for sixth out of 84 competitors with a three-round total of 214, just one stroke over par and nine off the overall winner, Campbell University's Gaston Bertinotti. Bertinotti's eight-under combined score was somewhat of an anomaly for the tournament; no other golfer shot better than two-under par, which made Crawford just three strokes shy of second place.
The finish was the junior's fifth Top-10 finish of the season. In his 13 rounds this fall, Crawford kept each under 74. He finished seventh, third, second, third and sixth in the team's five competitions for an average finishing place of 4.2.
Mistretta continued an impressive mid-season turnaround, shooting a three-round total of 219 to finish the invitational tied for 22nd overall, just five strokes behind Crawford. Mistretta finished tied for sixth last weekend at the Temple Invitational, and is swinging strong at the end of the fall season, which is also his first.
Sophomore Dance continued to card impressively consistent golf, shooting a 75 in rounds one and three, and a 76 in round two, to finish tied for 47th with a three-round score of 226.
Freshman Schneider continued to see his game slip in the face of the second half of the season. His poor second round, an 87, was the worst round by a Dragon during the weekend, and was a big reason for the team's nine-stroke jump in the second round. Schneider finished tied for 71st with a three-round score of 237.
Junior Brian Fischer finished 78th with a three-round score of 247.
The team shot a solid first and final rounds. It was the lack of team-wide consistency that doomed them in the end; with a replication of their first round in place of the poor second round, the Dragons would have finished seventh instead of 11th. Still not a win, but better, both for year-end statistics and the team's psychological makeup.
Last week in response to a question about a specific golfer, Dynda gave an answer that would prove more telling than he even realized at the time.
"Golf really is based on the law of averages," he said.
The law of averages represents the belief that, over a period of time, statistics, or in this case results, will even out. Everybody will get their share.
It's been over two years. The Dragons are still working and still improving. There's no question that is a talented golf team, and eventually the team will put together a win.
Whether the law of averages has anything to do with them being unable to win an invitational is another story entirely.
The team will finish its fall season with the City 6 Championship Saturday, Oct. 25 at 1 p.m. at the Philadelphia Cricket Club.