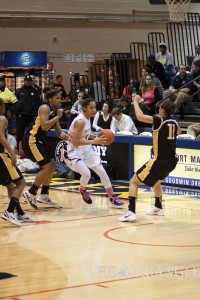 After an outstanding display of hard work and dedication, the Drexel University women's basketball 2011-12 season came to a heartbreaking end when the Dragons fell to Syracuse University 65-43 in the second round of the Women's National Invitation tournament March 19.
Due to Syracuse's outstanding rebounding efforts, with 58 boards compared to Drexel's 33, the Orange pulled out a big win during a second-half surge.
The Dragons reached the second round by defeating Fairfield University in the first round 57-41 March 15.
Though Drexel's WNIT appearance was cut short, the women should be proud of their dominating and extremely impressive season, so much so that they just missed a NCAA tournament bid by one game.
After defeating Virginia Commonwealth University and James Madison University in early CAA Tournament rounds, the University of Delaware defeated the Dragons 43-59 in the finals, putting an end to their impressive run.
For seniors Kamile Nacickaite, Marisa Crane, Ayana Lee and Tyler Hale, this season marked the end of their successful careers on the court as Dragons.
"I will miss being surrounded by this great group of people every day," Lee commented. "They were definitely my second family."
The senior members of the women's basketball family all played their final moments together as Dragons — with under a minute left against Syracuse, head coach Denise Dillon pulled all four seniors out of the game at once, only to be greeted by a standing ovation from the crowd.
This was a bittersweet moment for the women. Though it marked the end of an era, it was the end of a wildly successful one. This group of seniors was the first in Drexel history to reach a postseason tournament in all four of its seasons. In addition, all four seniors played in over 100 games during their time at Drexel.
Both the experiences on the court as well as the friendships off the court made for memories that the women will never forget.
As Crane put it, "I will miss having the camaraderie that comes along with being a team and knowing you've got each other's backs no matter what. You have to appreciate your time here and not take it for granted. Live in the moment because these four years fly by!"
This season marked Drexel's second-ever trip to the CAA Championship game. This can be attributed to the standout talents on the team, one being Nacickaite, who finished her career fourth all-time at Drexel with 1,649 points.
Along Drexel's offense, the Dragons' defense also contributed to their success. Overall, the defensive unit finished the year with a 54.3 points-per-game-allowed average, which was the best in the CAA this season and is also the best average in school history thus far.
The Dragons finished the season by winning 14 of their final 21 games, leaving them with a 19-14 overall record and a 12-6 record in conference play.
Their stellar record can be credited to the women's dedication to the game and their dedication to one another.
"I've definitely learned that nothing is accomplished without teamwork," Lee said. "You may think you can do it all alone, but it's always better when you have a support system behind you and working with you."
This year also marked personal success for Dillon. She became the winningest coach in Division I history at Drexel when her team defeated Old Dominion University Feb. 16 for her 145th win. At the end of this season, Dillon's win total in her Drexel tenure stood at 151. Her successful coaching may have helped Director of Athletics Eric Zillmer to pull the trigger on signing Dillon to a multi-year contract extension.
Although the details of the contract are not disclosed, one can presume that Dillon isn't going anywhere any time soon.
"We are excited to announce that Denise is staying at Drexel for years to come," Zillmer said. "She has brought the program to another level and has put Drexel on the map in the world of women's basketball. We look forward to her continued success in the upcoming years."
Needless to say, it appears as though the women's basketball team will only continue to improve with time. With strong leadership left behind from the graduating seniors, the underclassmen can now follow in their footsteps for seasons to come.
As Hale put it, "Time does fly, and the end of your senior year comes around fast, so play every game like it's your last, and always remember to have fun because that's why we play this sport."