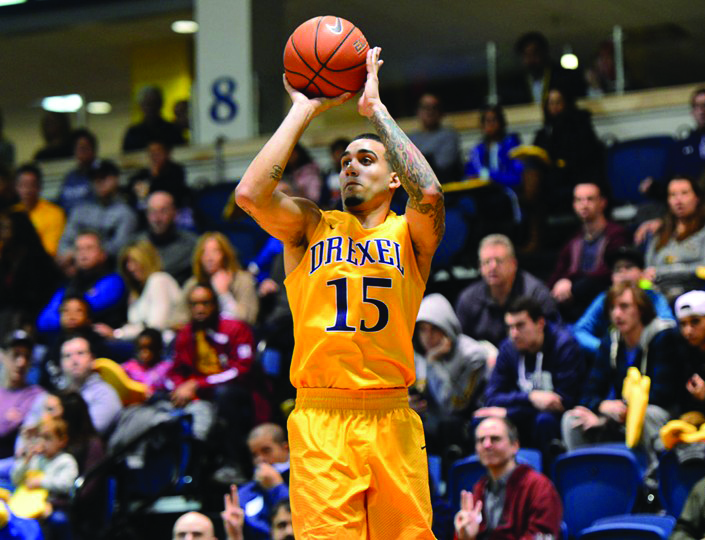 Amidst the grind of league play, where packed schedules and improving talent league-wide can be exhausting for a team as youthful as the Drexel University men's basketball squad, the added intrigue of a rivalry game or the excitement of playing in front of a home crowd can do wonders. The Dragons tapped into both Jan. 14 when they took on the University of Delaware Blue Hens at the Daskalakis Athletic Center.
Drexel entered the contest on a four-game slide after falling at the hands of Northeastern University, the second time in 10 days. Unlike their Jan. 2 matchup, when the Dragons hung in with one of the league's stalwarts until the final buzzer, the Huskies overwhelmed their visitors on their home court. T.J. Williams was simply unguardable on the day, the highest scorer in a high-scoring affair. He ended with 30 of his team's 92 points, including 7 points and an assist in part of the 14-2 run that put Drexel away for good.
But even in this seemingly lopsided affair, a careful eye was capable to discerning a difference between this year and last. To first year head coach Zach Spiker's credit, he certainly has his players putting up an inspired effort.
As was the case when Drexel faced the class of the Colonial Athletic Association in University of North Carolina at Wilmington, this year's scrappy bunch went down swinging, answering each run with a counter-punch that was simply missing from last year's roster. And as nearly every coach since the beginning of time has preached, playing hard has slowly and surely yielded more tangible results as the season has gone on.
Five dragons scored in double figures, led by 18 from junior Sammy Mojica. Junior Miles Overton quietly continued on his personal quest to reclaim his scoring knack after a year sitting out due to NCAA transfer rules, pitching in a an efficient 14-point performance on 4-of-9 shooting from the field.
So, despite falling to 0-4 in conference play, Spiker still had some positive ammunition to feed his team prior to facing the Blue Hens. For the first time in the new year, his team put the pieces together to find themselves on the pleasantly unfamiliar side of the draw after 40 minutes.
Both sides came out of the gate a little out of sorts, with turnovers and missed shots categorizing the game's first five minutes. These offensive struggles continued for most of the first half, and with a little over 3 minutes remaining in the first half Drexel only managed a 2-point advantage at 25-23.
This is where the fresh faces for the Dragons took over, ignited by a triple from Miles Overton off a freshman Kurk Lee feed. After a Lee jumper on the following possession, senior Rodney Williams thundered home a dunk and the run was on.
All told, Drexel used the close of the first half and start of the second to build a lead that the offensively challenged Blue Hens simply could not match. Philadelphia Catholic League alumnus Ryan Daly (Archbishop Carrol) failed to find his stroke from beyond the arc, but still turned in a respectable stat line of 13 points and 9 boards.
"We lost control of the game late in the first half, when it went from a 2-point game to an 11 point deficit at the half," Delaware coach Martin Ingelsby said, "Credit to Zach, he has his team playing hard."
In the second half, Drexel played the role of frontrunner, maintaining their lead with an inside-out attack that Delaware failed to have an answer for. Kurk Lee fed bigs Austin and Rodney Williams in the middle, who combined for 29 points and 9 rebounds for the game, while Miles Overton once again reached double figures with a trio of deep balls on the way to 14 points.
Sure, Delaware's resume (7-12, 0-6 in the Colonial) might not be turning any heads of the selection committee come March, but the importance of this one should not be underestimated for Drexel. A strong performance against a traditional rival is always special. Doing it on your home floor makes it even more worthy of relishing. But most importantly, for a team dominated by fresh faces that still finds itself learning and growing, it really is nice to stop the bleeding and pick up a win. They've earned it.
Keep an eye on their progress as they travel to the college-basketball-rich state of North Carolina Jan. 21 for a game against University of North Carolina Wilmington.