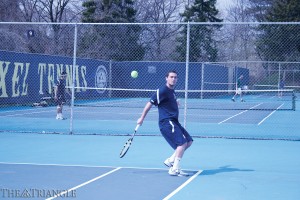 More than 100 women will compete at the 2013 Intercollegiate Tennis Association Northeast Regional Championships which will be held at the Murr Center at Harvard University Oct. 17-22. Singles and doubles champions will receive an automatic berth into the 2013 Intercollegiate Tennis Association National Indoor Championships Nov. 7-10 at the USTA Billie Jean King National Tennis Center in Flushing, N.Y. Among those competing will be several members of the Drexel Dragons tennis team.
On the men's side, only one Dragon will be participating in the main singles draw: Badr Ouabdelmoumen. The junior, a Saint Joseph's Invitational men's Flight 1 winner, is coming off a victory against Loyola University Maryland at the Lehigh Invitational.
Head coach Mehdi Rhazali believes that there is potential for Ouabdelmoumen to make an impact on the draw. "Badr did not play sophomore year due to an injury, and this year he has been waiting for it and been really hungry to taste the ITAs. This week he had a lot of practice and probably didn't lose a set in practice. Anything can happen."
Senior Skyler Davis and junior Dan Koehler will represent the Dragons in the doubles main draw. They have been the top doubles team for the Dragons for the past two years and look to continue their recent string of excellent results at the ITAs.
"Both of them have a very good net game, and their strength is positioning. … They are very mature on the court," Rhazali said of his top doubles team. "They have played and won some pretty big matches over the summer. They play very well together."
On the women's side, senior Zeynep Mafa and junior Nicole Pivonka will both compete in the main singles draw. Mafa will look to improve on last year's performance in the ITAs, when she advanced to the second round, while Pivonka will make her first appearance. Mafa and Pivonka had pivotal victories against highly touted University of Pennsylvania and University of Richmond No. 1 players this year, which bodes well for them heading into the tournament. In doubles, Mafa will team up with fellow senior Marcela Rosales.
"They have a lot of confidence and work well together," Rhazali said. "With Marcela being out because of an injury the past two weeks, she can focus on doubles, and hopefully we'll do better than last year."
Mafa and Rosales will be joined by Pivonka and freshman Fiorella Coria, victors in the Flight 2 doubles draw of the Saint Joseph's Invitational. Pivonka and Coria will have an advantage on those in the main draw because Pivonka is right-handed and Coria is left-handed. This combination will likely give them an advantage above most of the competition they will face.
While no Dragon has ever won the ITA Northeast Regional Championship, Rhazali knows that the tournament will have close competition and anything can happen.
"There are a lot of teams that get nationally ranked, but anybody can win this. For us, I don't [just] see it as, 'Oh, we can get to round of 16 or quarters,'" he said. "I feel that our one and two are in the same level as any girl competing in the main draw."
"Anything is possible [because] the level is very close. Whoever is mentally tough and believes more in themselves is going to win that tournament because … most of them are at the same level," he continued. "If you got in the main draw, there is a reason … you are a good player."
Such is the belief of Rhazali in his players. They have worked hard throughout the summer and early on in the season; he said he hopes and believes that their hard work can pay off.