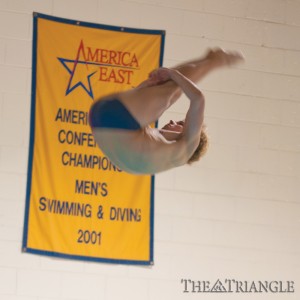 Stephen Cal, the lone diver on the Drexel men's team, competed against the University of Maryland-Baltimore County Feb. 11 at Drexel Pool and finished with two second-place finishes. He was able to compete better than he has all year and really show improvements during his last tune-up before the Colonial Athletic Association Championships Feb. 22-25 in Fairfax, Va.
"Stephen dove well this weekend," head diving coach Lawrence May said. "He has been getting better all year, but it has really been a trying year for him because he is the only diver."
UMBC's Andrew Eckhoff registered the top score with 283.42 in the one-meter event followed by Cal with 255.15. In the three-meter event, Cal had a combined score of 295.87.
"He is really excited about the CAAs because he knows he can perform well, and he has set some goals for himself to succeed there," May said. "We are looking for him to finish in the top three, which is completely attainable."
Cal, a junior, has had a solid year but knows it could have been a lot better. When you are the only diver on the team, there is a lot of added pressure, and it is a completely different experience when you cannot bounce ideas off of other divers.
"We realize that it has been a different type of year for him, but we still need him to focus on these next two meets [the CAAs and the NCAA Zone meet]," May said. "The hardest part of diving is the mental aspect, and if you are not in it mentally, then you will fail."
After the CAAs will be the NCAA Zone meet, which is where the northeast region competes to make it to nationals. It will be tough to make it past that, but showing up strong could be a big benefit moving forward.
The time is now for Cal to be at his best and show the country what he can do. These types of meets are always fun because of the amount of teams that are there for them.
"Stephen always shows up nicely for the big competitions, and I expect no different for these two," May explained. "He is a competitor and will do his best to show up for these events."
The Drexel men's and women's swimming and diving teams will close out the season at the CAA Championships.
Next season is expected to be much stronger with a few more divers coming in and Cal continuing to improve his skills in what will be his final year on the Dragons' diving roster.