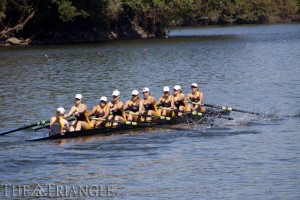 Coming off a historic 2012-13 season, the Drexel men's and women's crew teams have high hopes heading into their new campaigns.
As a whole, the Drexel crew team finished out last season in great form. At the 2013 Aberdeen Dad Vail Regatta, the Dragons took home the overall team title, the men's point trophy and their highest-ever medal total at the event.
The success continued at the Intercollegiate Rowing Association National Championships and the Colonial Athletic Association Championships, as both Drexel squads finished strongly.
At the IRA Championships, the men ended their season on a high note with top finishes from three of their boats. The men's freshman eight finished 12th overall, while the men's varsity eight placed 20th overall and the men's varsity four placed 22nd overall.
At the CAA Championships, the women also ended strong in the water. Their varsity four had their best performance, taking home a silver medal, while rowers Alexa Antonioli and Mollie Cusack were named to the All-CAA Team.
Following the season, three rowers on women's crew received special honors. Alyssa Leahy, Tori King and Colleen Delaney all received Philadelphia Inquirer Academic All-Area Team honors for women's rowing.
For the men, the offseason included having one of their best rowers compete in the World University Games in Russia. Rising junior Ian Luetzow was one of nine student-athletes chosen by USRowing to make up the U.S. men's eight. Luetzow and the rest of his boat finished sixth overall in the grand final.
Following their offseason, the Drexel crew teams have their sights on the fast-approaching season ahead.
The men are coming into their 2013 fall campaign with high hopes and confidence that they can have another memorable season. Director of Rowing and head coach Paul Savell is excited about where his men's squad is and the level of talent they bring to the table.
"We have great depth and potential to have a very successful year again," he said. "The [intra-squad] level of competition is incredibly high, and the guys know exactly what they want to accomplish. We are looking for new leadership to emerge as the fall season gets started, and spirits are at an all-time high."
The women's fall season will include 29 returning rowers and 11 freshmen on the squad. With a strong returning class and some talented new faces, Savell believes he has a formidable team heading into the new campaign.
"We have two eights that have very strong and competitive rowers returning from a successful campaign last year," he said. "We also have a talented class of freshmen that will add to the depth of the team and should make for a competitive atmosphere at practice each day."
Drexel Crew will kick off its season Sept. 28 with the Rumson Boat Race on the Navesink River.