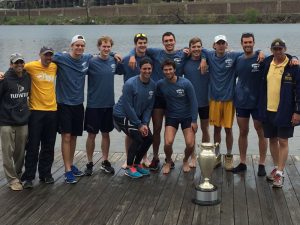 The Drexel University men's crew team competed in the Bergen Cup, hosted on the Schuylkill River by St. Joseph's University April 23.
Drexel's varsity eight went in looking for a six-peat, and a seventh gold in the last eight years. They demolished the competition with a seven-and-a-half-second victory over second-place Temple University.
The men's varsity four, racing in the LeBow College of Business boat, wasn't quite as dominant, but still finished in first with over one second to spare as they defeated second-place Villanova University.
Keeping the winning trend going, the men's freshmen eight and third varsity eight started the day off with victories in their respective races. The second varsity eight, in a nail-biting race, lost to Temple University by just two-tenths of a second. Rounding out the men's team, the freshmen four took third place with a time of 7:04.6.
While the men's team was conquering the Schuylkill in the Bergen Cup, the women's team was participating in the Kelly Cup and doing just the same. Like the men, the women's varsity eight went into the weekend looking for their seventh win in the previous eight years, but unlike the men's six-peat, the women were looking for a five-peat. They accomplished their goal by defeating Temple with a time of 6:24.3 to bring home the gold.
The women's varsity four picked up a first place finish with a three-second victory over city rivals Temple. Also landing on the podium this past weekend were the women's second varsity eight and freshmen eight, both rowing to a third place finish.
Both the men's and women's teams are back in the water this weekend. The men's team will travel up to New Jersey April 30 to face Columbia University and Delaware University. The women's team will go to Massachusetts to compete in the Eastern Sprints April 30.