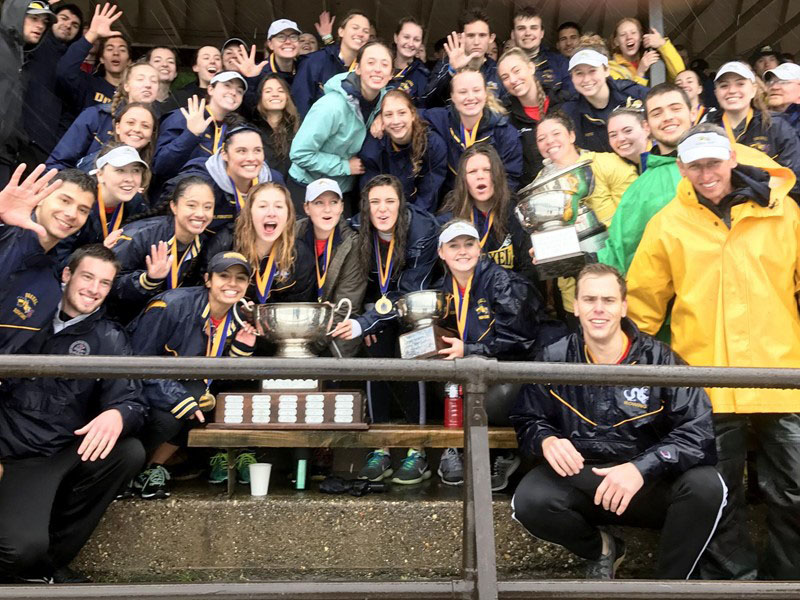 In their season finale, the Drexel University men's and women's crew teams took home major victories in the Frostbite Regatta Nov. 11. This competition was held on Mercer Lake in Mercer County, New Jersey. In this nail-biter of an event, the Drexel women's varsity eight B raced to victory.
Additionally, two other Drexel boats did extremely well at the regatta. The Drexel women's varsity eight C raced in the Cara Fry boat, who edged the varsity eight A in the Alleva XVII boat, 7:04.410 to 7:06.900. The women's varsity eight C, racing in the Marlene Buckley II boat, won the second flight with a time of 7:26.160, which beat Philadelphia University's rowing team by nearly three seconds.
The men's second varsity eight A finished first in their heat rowing in the Lois Krall boat. They outlasted Temple University's boat with a time of 6:21.510, beating them by two-and-a-half seconds. The men's varsity eight A team, however, did not fare so well against Temple in their heat. They raced in the Lois Krall II boat and finished three-and-a-half seconds behind Temple with a time of 6:13.040. The men's freshman eight team, who replaced the men's second varsity eight B, also finished second in their heat, losing to the University of Delaware by less than a second.
The Frostbite Regatta did have freshman eight races scheduled, but due to unexpected weather conditions, they were cancelled.
Overall, Drexel had a tremendous day at the Frostbite Regatta. The three first place finishes, followed by three second place finishes really showed the dominance of Drexel's rowing program. The first place winning women's B team was lead by Kayley Slicer in the stroke seat and Danika Meldrum as coxswain. The other winning women's team, Team C, was lead by Stephanie Horn at stroke and Clara Fancher as coxswain. On the men's side, the only winning team, the second varsity eight A, was led by Joseph Konieczny at stroke and Charlie Bavisotto as coxswain.
It was very pleasing to see the Drexel rowing program do so well on their last event of the year. Although the freshman races got cancelled, the varsity teams got to show the rest of the tri-state area who's boss. The rowing teams will go into winter training and will return again to show their dominance in the spring.