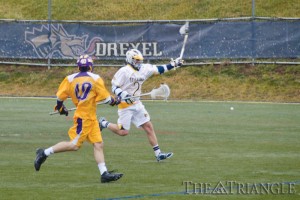 Pick your narrative for this week's recap of the Drexel men's lacrosse team.
It could be the high-scoring shootout between Drexel and the University at Albany Feb. 23 at Vidas Field. The 20-19 win for the Dragons featured six goals and nine assists for the Great Danes' three stars, brothers Lyle and Miles and cousin Ty Thompson, and five Drexel players with hat tricks.
It could be the rainy, windy and cold conditions in which Drexel defeated Villanova University Feb. 26 at Vidas Field. Although the weather didn't cooperate with the fans in attendance, including myself, the Dragons and Wildcats persevered through the muck to provide some quality entertainment and a 12-10 final score.
But the narrative I am going to go with is "comebacks." Yes, they were prevalent in both wins for the Dragons, considering they were down 7-1 in the first quarter against Albany and 7-3 in the third quarter against Villanova.
After the first quarter against Albany, it was junior Nick Trizano who took matters into his own hands. The attack from Eastchester, N.Y., scored two goals in 43 seconds, both on assists from senior midfielder Aaron Prosser, to bring the score to 7-3 and plant the idea of a loss in the minds of the Great Danes.
"When we came in after the first quarter, we talked about what we needed to do," junior midfielder Ben McIntosh said. "We got the ball in their end, and we were able to create chances and get shots."
Trizano was named Colonial Athletic Association Player of the Week for his performance with four goals and two assists. Freshman attack Frank Fusco was the second-half hero for Drexel, as he scored three goals on three shots in an ultraefficient performance.
Prosser, with three goals and three assists, was an instrumental part of the offense against Albany, as he was regularly able to gain momentum toward the goal and create offense for his teammates.
Other top scorers for the Dragons were sophomore midfielder Ryan Belka with three goals and two assists and senior attack Robert Church with two goals and three assists.
"We know we are good players on offense, and we can make things happen," Trizano said. "So we just had to stay focused and do the things that we needed to do."
As for the defense, allowing 19 goals in a game is not ideal, but the back end came up big when it mattered most. After a seven-goal first quarter for Albany, goalie Will Gabrielsen allowed only six goals in the next two quarters to allow the offense to get Drexel on top 14-13 going into the final frame.
"I guess it's all relative in a game like this, but our defense started to bear down and get a sense of what they wanted to do," head coach Brian Voelker said. "But we can't give teams those leads early."
Gabrielsen, a freshman from Summit, N.J., stopped 18 shots for the game, but none were bigger than his final save as time expired. Albany junior attack Miles Thompson fired a desperation shot toward the net in the final seconds, but Gabrielsen whisked the ball toward the sideline as time expired to preserve the one-goal victory.
"You don't want to dig yourself a 7-1 hole, but I give our guys a ton of credit," Voelker said. "[They] just kept scratching and clawing against a really good team."
A fulfilling comeback victory for Drexel meant a disappointing loss for Albany. The Great Danes were noticeably upset as they left Vidas Field at the conclusion of the game. One hotheaded player had to be physically restrained by his teammates, as he wanted to take on the vocal Dragons' faithful singlehandedly.
Speaking of faithful, it is the perfect word to describe Drexel fans who braved the steady rain and gusting winds to support the home team in an intracity matchup against Villanova.
Once again, the Dragons got out to a very slow start. Whether it was because of the inclement weather or the sturdy Villanova defense, the high-powered Drexel offense only managed to score three times in the first half. At the midway point in the game, the Dragons found themselves down 6-3 with not many positives on their side.
Villanova faceoff specialist Thomas Croonquist won all 10 faceoffs in the first half against Drexel sophomore Nick Saputo and junior Deven Thomas. By halftime the Wildcats outshot the Dragons 22-12 and won 12 out of 17 ground balls. The three-goal deficit was not insurmountable in any sense, but Voelker's team had to turn things around in the second half.
"The first half and the beginning of the third quarter we weren't very good," Voelker said. "We didn't get many ground balls, and we weren't taking care of the ball in the offensive end."
After a Villanova goal opened the scoring in the third quarter, Drexel's offense woke up. Church, Trizano and McIntosh each scored in a span of 2:08 to bring the Dragons within one, and it was suddenly anybody's game.
"Something clicked, and the kids just kept at it," Voelker said. "I wish I knew [what it was] because if I knew then we would try to click it earlier."
Two consecutive Villanova goals stretched the lead to 9-6 with 3:07 remaining in the third quarter, and it seemed like Drexel had had enough at that point. Prosser scored with 13 seconds left in the third quarter, and from that point on, the Dragons outscored Villanova 6-1 over the final 15:13 to clinch the 12-10 win.
Gabrielsen had his best game thus far with 12 saves on 22 shots on goal. One of his saves was an impressive stop on a point-blank Villanova opportunity to keep Drexel in a 10-8 deficit midway through the fourth quarter.
"Will played great, and he really kept us in it," Voelker said. "It's a big win for us because we hadn't beaten these guys; they kind of had our number."
All three Dragon defenders were effective in stalling the Wildcats' ball movement, as 10 of the visiting team's 12 goals were unassisted. Junior Matt Dusek, senior Chris Walsh and junior Tyler Houchins were able to use their physicality very effectively against the Villanova attack.
"Defensively it was good to get some stops," Voelker said. "In the last quarter I think we started doing the things that we've talked about, and the guys did a good job."
Drexel will try to build on its two-game winning streak when the team heads to Pittsburgh to take on Robert Morris University. The Dragons are 4-1 all-time against the Colonials but lost by a score of 11-10 in their last meeting in 2009.
In order to win, Voelker said Drexel will have to do the right things because "it's not rocket science." Getting off to a stronger start would not hurt, either. Although comeback victories are great in hindsight and fun to write about, getting behind the eight ball early is not the best way to ensure victory from game to game.