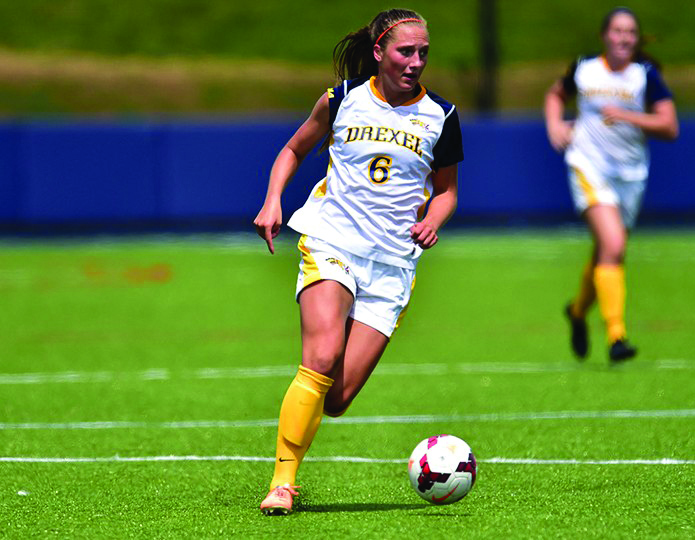 The Drexel University women's soccer team clinched a second-place finish in the Colonial Athletic Association with a 0-0 tie at home against the University of Delaware Blue Hens on Senior Day, Oct. 23.
Despite the two teams combining for 33 shots, neither were able to get on the board in the 110 minutes they played.
The Dragons honored all four of their seniors, Katie Sia, Nicolette Wilkins, Abbey Romano, and Maddy Moyer, by having them start the game.
In the first half, Drexel outshot Delaware 9 to 3, but was unable to capitalize on any opportunities. In a five-minute sequence at the end of the first half, the Dragons had two of their shots saved by Delaware's Kailyn Rekos, and two more shots blocked by Blue Hen defenders.
Junior Christiana Ogunsami replaced Katie Sia as goalkeeper for Drexel at the beginning of the second half. Ogunsami was quick to see action as she recorded her first save of the game in the 50th minute.
Much like they did in the first half, the Dragons outshot the Blue Hens in the second half 8 to 6. Once again, however, neither team was able to score, taking the game to sudden death overtime.
In the first ten-minute overtime period, it did not take very long for the Dragons to get a game-winning opportunity. Junior Wilhelmina Hauch-Fausboell put a shot attempt on goal just 29 seconds into OT, but her shot was saved by Rekos.
Delaware quickly went on a counterattack, and less than 40 seconds after Rekos denied the Dragons, Ogunsami saved a shot off the foot of Jillian Vassallo to preserve the scoreless tie.
Drexel had a few more chances towards the end of the period, including a last-second shot from sophomore Shaeyln McCarty, but Delaware's defense held strong and forced a second period of overtime.
In the second ten-minute overtime, the Dragons once again started off strong. In the 103rd minute, junior Madison Dunn headed a shot, off the corner kick from junior Kylie Strong, towards the Blue Hen goal. However, Dunn's shot was blocked by a Blue Hen defender.
In the final 30 seconds of the game, the Dragons had an opportunity to win when McCarty fired a shot towards the Delaware goal. McCarty's shot sailed wide, and the clock ran out to make the final score 0-0.
As a team, the Dragons combined for 22 shot attempts, with nine on target, but were somehow not able to put one past Rekos, who saved everything that came her way.