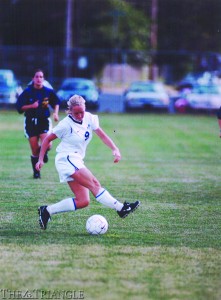 The late Laura Meikle Koch dribbles the ball down the field during a home game on the Vidas grass. The program's former top scorer died of lung cancer at the age of 28.
Buckley Recreational Field is the central hub of Drexel recreational athletics. From intramural soccer and flag football to pickup soccer matches, wiffle ball tournaments and even cricket practices, if a Drexel student is bored and wants to be athletically active, a small trek to Buckley solves that problem.
Buckley served as the home for yet another impactful athletic tournament May 19. The Drexel women's soccer team, Recreational Athletics and Residence Life teamed up to host The Laura Meikle-Koch 3v3 Co-ed Soccer Festival, which, consisted of 12 teams made up of 65 to 70 participating students. The tournament is an annual event that benefits the American Association for Cancer Research and Coaches vs. Cancer.
The  tournament is a campus-wide event, and registration was free for all participants; they also received complimentary t-shirts and a chance for different sorts of prizes.
Each of the 12 teams consisted of a mix of students and student-athletes. Throughout the day, Buckley was split into three separate soccer fields so that three games could occur at once. In addition to the competition, there was music all day and the recreation center also generously supplied Powerade as well as referees to regulate the games.
"It was definitely a success and something that we hope extends to an even larger student body crowd in the future," Kim Chiarelli, women's soccer assistant, said. Chiarelli is a former four-year letterwinner on the women's soccer team from 2007-10 as well as a one-year letterwinner on the field hockey team in 2011. She was one of the main participants in running this year's event.
The event is held in commemoration of Laura Meikle-Koch, a former Drexel soccer player and respected student-athlete who graduated from Drexel in 2001. During her time at Drexel, Meikle-Koch set program records in goals and points, and remains in the top five in both categories. Before Drexel, Meikle-Koch attended West Chester Henderson High School, where she was a member of the 1995 state championship team and the 1997 No. 1 nationally ranked high school team.
Off the field, the four-year letterwinner embodied the passion, courage and love that every coach strives for their student-athletes to emulate. Her attitude is continued on and off the field as her former head coach Ray Goon and his staff appoint a current player every season who also embodies those characteristics to ceremonially sport her No. 9 jersey number.
Meikle-Koch, 28, passed away in 2008 after a 13-month long battle with lung cancer.