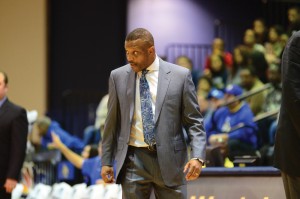 There are 26 head coaches, out of 351 men's college basketball programs, who have been with the same school since 2001.
It's hard to hang around a program for 15 years without some semblance of sustained success. When you reach a decade and a half at the same school, you're likely doing something right. At the very least, you're not doing anything wrong.
This season, Drexel University is doing something wrong.
Bruiser Flint effectively admitted as much when he spoke with Drexel Dragons radio announcer Rob Brooks after the Dragons' third loss in as many days in the Great Alaska Shootout.
"Last year, I knew we were bad," Flint said. "This year, I can't believe our record."
It's the first time since 1970 that a Drexel team has lost its first six games of the season.
When a team begins a season with six losses, when a team loses to an opponent which is an entire rung below itself on the omnivorous food chain of college athletics, and when a team simply shoots itself in the foot, over and over, for an entire month, there is typically blame to be placed on the leader of that group.
Bruiser Flint doesn't have a conference championship to hang his hat on, to point to in the rafters of a sparsely-attended Daskalakis Athletic Center and use as his life vest. He has won one regular season title, and he has yet to outfit his team with dancing shoes in March.
I don't think Flint has done a good enough job with this program since the 2011-12 season to fend off job security questions. I think we've seen talent go undeveloped in the likes of Daryl McCoy, Dartaye Ruffin and Tavon Allen. I think we've seen a team repeatedly unable to execute in the final minutes of games, saved only by the occasional heroics of a player rapidly outgrowing your program.
But I also think we've seen a team's potential get bogged down by an inexplicable rash of crippling injuries. The team has lost at least one guard for an entire season in each of the last five seasons. That goes beyond bad luck. That is a bad omen.
And at some point, whether fingers are pointed at the correct culprits or not, you have to consider a new beginning.
Flint is clearly not the root of all of this team's problems. But you have to wonder what a change of pace would feel like, if only to see if someone could take the program, mired for four seasons now in the quicksand-like grasp of mediocrity, to the level it once knew in Flint's best days.
It's not about the man and his shortcomings so much as it is about the program getting a much-needed face-lift.
However:
To fire a coach in the middle of a season is to tear up dirt and asphalt, to uproot trees and eviscerate foundations of long-standing buildings without a clear blueprint for reconstruction. No good would come of firing Flint in the middle of the season; only disarray and confusion. If you align with the idea that the Drexel men's basketball program needs change, it would make the most sense to wait for a clean break and a fresh start.
Look at what Kevin Keatts was able to do with a team of seasoned players in his inaugural year at the University of North Carolina-Wilmington. A Rick Pitino disciple and forward-thinking coach, Keatts inherited a dismal 9-23 team and in one season turned the Seahawks into a formidable threat in the Colonial Athletic Association. His first season ended in a share of the conference's regular season championship. It was that quick.
The buzz around the program was nothing short of effervescent, aided only slightly by the highlighter-yellow uniforms introduced during conference play. There was someone new, someone fresh, someone full of bright and brilliant ideas, freed from the agony of the past few frustrating years the Seahawks had endured. Keatts lifted Addison Spruill and Craig Ponder, players with great potential, who needed just a tiny extra bump from coaching to reach new heights.
Of course, this Drexel team is a largely unknown commodity, but its upside is high. We have yet to see what it could look like with a healthy Ahmad Fields, who has played just 19 minutes this season but flashed the ability to create when he was on the floor.
This team has experienced big men and young-but-tested guards at the ready. Next season, with a healthy Fields and the addition of former Wake Forest guard Miles Overton, this could be a Drexel team with the ability to make noise in the CAA.
And when this season ends, the question will remain. Is Bruiser Flint the right man to take that unknown, potentially very good team?  He hasn't done it in 15 years.
But that is a question for then, and this is now. And now, while it may feel like it, is not the right time for change.