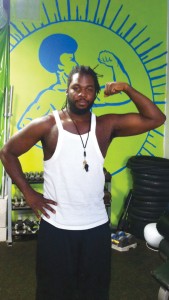 Spring sports are right around the corner, and after that, the summer swimsuit season will quickly be upon us. If either has you wanting to get in shape, or maybe shed some pounds, there is an option to check out in the local area.
Bodyrock Boot Camp, located at 38th Street and Lancaster Avenue, offers a variety of workout methods to local residents of University City, especially college students. They offer classes for people with all types of experience, including those new to fitness. Convenient for college students who are busy during the day with classes, Bodyrock Boot Camp offers classes in the mornings as early as 6 a.m. and in the evening up until 7 p.m.
Among the workouts are the boot camp classes. Nate McIntyre owns the gym, and he calls these classes the "toughest class you'll take in your life." He tries to focus on things that some other gyms do not, such as the experience. The experience includes the neon green scenery and rap music blasting through the speakers as you work out.
"We make it more of a workout experience and not just a workout," McIntyre said.
Being in Philadelphia, the gym helps a great amount of people, reaching out to people of all fitness levels with varying fitness goals.
"In Philadelphia, people have a million reasons to work out," McIntyre said. "We have classes for people new to fitness or classes for the experienced."
Whether you want to lose weight, build more lean muscle, tone up or get in better shape in general, the gym offers classes that can help you with that.
The gym also offers classes that allow people to work out and have a personal one-on-one experience working with McIntyre. One class, B2B (Back to Basics), has a maximum capacity of only eight people, which means no one will go unnoticed.
Working with the gym as part of her senior project, Drexel senior Caitlin Bookman took a class and was able to enjoy the small, one-on-one workout. She benefitted from the advice and feedback that she was able to receive in a small group.
"When I took the class with him, it was me and one other girl, and so he was able to work really closely with us and show us how we can improve."
Bookman is studying public relations and works on PR strategies with the gym.
The gym is now offering a new yoga class. However, this isn't your typical yoga class, as the Bodyrock Boot Camp focuses on your core and cardio. So if you don't like typical yoga because it is "glamorized stretching," this one is sure to work the different muscles in your body. The class, called the Rock Body Yoga class, launched Feb. 1 on "College Night." The event allowed college students to participate in the class for free, interact with McIntyre and have the chance to win monthly passes, which were raffled off to the attendees.
Twenty-eight women representing some of the Greek Organizations at Drexel, members of the dance team, nursing club and others packed the gym and took part in the free Rock Body yoga class. The gym was filled to capacity.
"It was great to see so many girls come out to take the class, and everyone really enjoyed it and felt it was a good workout," Bookman said. "A lot of the girls were saying they want to come try out some of the other classes."
The yoga class was designed with college students in mind, but that's not the only thing Bodyrock Boot Camp is working on that would interest college students. The gym is working on putting together payment packages and deals with other areas of interest for college students, such as Rocket Tan and some of the bars in the area.
College student or not, classes at Bodyrock Boot Camp could be a good way to get your body in the condition you desire. McIntyre even has a client close to 70 years old.
As Bookman adds, it is not the most typical gym.
"It's not like a gym where you go in and you swipe your card and then go run on the treadmill," Bookman added.
Still, it is effective, and the classes can get your body into shape in three months, according to McIntyre. Taking only three months at most to get into shape, the gym could be an aid to those preparing for spring sports. It should also give plenty of time to be in shape for summer.
Bodyrock Boot Camp and its rates and hours can be found online at www.bodyrockbootcamp.net. They can also be reached by phone at 215-240-ROC1.