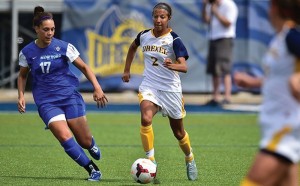 Drexel University's women's soccer team was defeated by the Delaware University Bluehens Friday Oct. 9. The final score was 1-0.
In the first half, the two teams were pretty evenly matched. The Dragons had six shots on goal, while the Bluehens had five. The teams battled and remained scoreless through the halftime break.
Delaware scored the lone goal of the game in the 58th minute of regulation time. Bluehen Natalie Zelenky received a pass from teammate Elise Krause and sunk the ball into the bottom right corner of the net. The goal marked Zelenky's ninth for the season.
With time winding down, the Dragons had some opportunity for a comeback. Shaelyn McCarty connected with Vanessa Kara. Kara delivered a powerful shot, but Delaware netminder Kailyn Rekos matched it with an impressive save.
Delaware made an attempt to add to their advantage, but Dragon Kelsie Fye kept Drexel in the game with a save of her own.
With just under five minutes to play, Kara attempted another shot, but Rekos made the stop.
The Bluehens continued to hold off the Dragon offense and would maintain their 1-0 lead through the end of the game.
In post-game reflection, Coach Ray Goon noted, "What the team talked about was that we need to come up with 'the difference' so we are on the successful end of a 1-0 game. What can each of us do or add individually, so that the team can come up with 'the difference'. It might be something different for each of us and it might be something small…a little extra effort, or a little more concentration or communication to help execution. It could be something off the field to help us prepare…a little more rest, watching a little more video or bouncing ideas and thoughts off a teammate."
Overall, the Dragons had 11 shots to the Bluehens' nine. Fye made three saves and Rekos had five.
Drexel moves to a 7-7 record overall, 1-4 in Colonial Athletic Association matchups. Delaware improves to 6-6-2 on the season and is 1-2-2 in inter-conference games.
The Dragons return to action Oct. 16 when they face off against the College of William and Mary at Vidas Field.
"As we prepare for William and Mary and Elon, we cannot control how either of them will play, so we'll stay focused on what we can and need to do to come away with six points this weekend," Goon said.