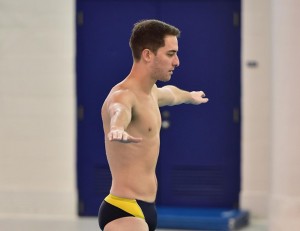 With the diving season coming to a close, men's diver David Sanchez has made the most of his four years as a Drexel University athlete. Being named "Athlete of the Week" for the week of Feb. 17-23 was only one of his accomplishments.
Sanchez's journey started off in Florida, when his mother registered Sanchez and his four younger brothers for free swimming and diving classes at the local high school.
"I enjoyed it so much, I signed up for the diving club when we moved to Atlanta, Georgia," Sanchez said.
In addition to Florida and Georgia, Sanchez had lived in California, Illinois and New York. His favorite place to live was Atlanta because there, he had created so many great memories with life-long friends.
Moving to Philadelphia was a huge adjustment for Sanchez.
"I wasn't thrilled about moving to a northern city," Sanchez said. "The cold climate was definitely a disadvantage for me."
Sanchez eventually admitted his newfound love for this unique city we all are privileged to live in.
With one more academic year remaining, he will be graduating with a major in business and engineering.
Starting as a regular business major at Drexel, Sanchez was always interested in the field of engineering.
Once he discovered the particular course of study incorporating both worlds of business and engineering, Sanchez decided to pursue it.
Sanchez cites the co-op program as what makes the university different, stating, "it's the main reason I came to Drexel."
With one last co-op this upcoming spring quarter, Sanchez believes it will give him a competitive edge over other work applicants.
On top of being a collegiate athlete, Sanchez is also a member of Lebow BRIDGE and Pi Kappa Phi fraternity.
In addition, Sanchez loves reveling in nature, which includes hiking, kayaking, fishing and any water activity.
During his freshman season, Sanchez was awarded with "Most Outstanding Diver of the Meet" in the Colonial Athletic Association conference.
Two seasons later, Sanchez received the same award as a junior.
After winning gold in the 1-meter and silver in the 3-meter, Sanchez was named "Most Outstanding Diver of the Meet" once again during his last meet this season.
After completing four successful seasons as a Dragon diver, Sanchez brought his career to a full circle with three of the same awards throughout his collegiate years.