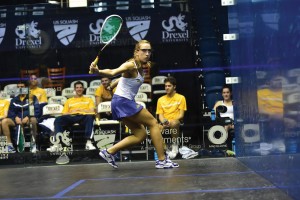 For sophomore Ryan Morgan, Drexel University women's squash player, being named "Athlete of the Week" for the week of January 13-19 was only the beginning of her accomplishments thus far.
No. 13 Drexel women's squash team took over Hanover, New Hampshire, when they defeated No. 9 Dartmouth University (5-4).
"This is such a big accomplishment for the team. We have so many new players and to be in the top 10 is amazing, especially because this is the first time the Drexel women's squash team has ever been in the top 10," Morgan said.
With a five-game win against Dartmouth's Rebecca Brownell, Morgan believes it is the aura of the team that drives her to win.
"You mentally prepare yourself to play your game because it is an individual sport, however, you do it for the team," she said. "When the team loses, you lose; no matter what your game outcomes were."
Growing up in the suburbs of Philadelphia in Bryn Mawr, Morgan started playing squash in the third grade.
Despite having played lacrosse and soccer in middle school, Morgan always her heart belonged on the court, saying "I have never loved any other sport like I love squash."
Morgan is not the only one in her family who loved the sport. Her two older cousins and her brother all started playing at a young age, which got her interested. Now her brother is the kicker for University of Pennsylvania's football team.
At The Baldwin School, Morgan helped bring the squash team to No. 2 in the U.S. National High School rankings. When the college recruiting process came around, she knew she wanted to continue to play.
"Drexel has always been the right choice for me," Morgan said. Prior to the recruitment process, Morgan already had connections with the coach, John White.
"I knew Coach John for years. Plus, I was positive I wanted to play squash and Drexel's women's team was already well established," Morgan said.
In addition, being close to home and to her brother at Penn had considerable appeal.
Other than squash, Morgan loves the world of fashion. Due to this specific interest, Morgan decided to major in design and merchandising. Morgan ended her freshman year with a 12-10 record and presently holds the No. 3 spot with an overall record of 6-2 her sophomore year.
The two keys to success, according to Morgan, are strengthening her mental game and improving her fitness. Learning how to get in the zone and stay there is essential for a strong player in squash.
Before every game, Morgan specifically visualizes successful shots she's played in the past, along with how the crowd reacted and what thoughts were going through her head as she played.
"I love being part of something bigger than myself. We all share a common goal, and that is what makes the women's and men's team so close-knit," she said.
After upsetting Dartmouth's Big Green, Morgan and the women's squash team are ready to take on No. 8 Cornell University Jan. 30 in Connecticut.
The Big Red Bear better prepare itself, because the Dragons are coming in strong.