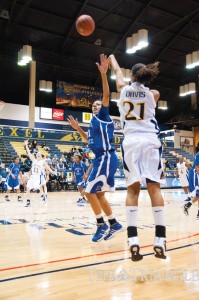 Ladies and gentlemen, it's the time of year we have all been waiting for: packed stands, delicious concessions, and most importantly, a basketball team with something to prove.
As the Drexel women's basketball team prepares for the 2011-12 season, they have lofty goals for themselves after their season was cut short last year in the Colonial Athletic Association Tournament.
Finishing 19-13 and earning themselves an invitation to this year's Women's National Invitation Tournament, the Dragons want to meet and exceed last year's results.
"You always put high expectations on a veteran team," Head Coach Denise Dillon said. "We have the experience and the talent to achieve our goals. I would like to see this team rally behind the seniors to make it great."
This will be the last season for powerhouse seniors Kamile Nacickaite, Marisa Crane, Tyler Hale and Ayana Lee. These four have been a part of some of the best women's basketball teams in Dragon history. With a 2009 CAA championship under their belts, these women have the experience and knowledge of the game to help lead their team to victory.
Nacickaite has been named a Preseason First Team All-CAA selection by a poll conducted by the league's coaches.
"Throughout three seasons, Kamile has proven to be a top player in the CAA," Dillon said. "We need Kam to continue to do what she does best — score consistently with threes and post moves and rebound the ball."
When a player has as much recognition as Nacickaite, the power comes with responsibility. But Dillon reassures her that "we have a very good team, … so we don't want her to feel any pressure to do more than what she is capable of doing."
And what exactly is she capable of doing? Well, for starters, leading the league as a junior in scoring and rebounding. Not to mention she was also named as a Second Team selection. But beyond her apparent talent on the court, she acts as a leader and mentor to the younger players off the court.
As a collective team, the Dragons were picked to finished fifth along with Old Dominion this season, voted by the preseason poll.
"I predicted we would be picked fifth or sixth — the CAA is as strong as ever," Dillon stated. "We know we have a challenging year ahead, but our goal remains to finish in the top four in regular season play. That gives us the best chance to win a second CAA championship and advance to the NCAA Tournament."
First on the Dragons' hit list are our friends from East Falls, the Philadelphia University Rams. Drexel will take on the Rams Nov. 6 at the Daskalakis Athletic Center at 2 p.m.
Shortly after PhillyU, the Dragons continue high-level non-conference play with trips to Pittsburgh and Seton Hall. But before the Dragons leave their home turf, they are greeted by Long Island for a first-round Preseason WNIT showdown Nov. 11.
The Dragons take on Pitt Nov. 26 and just days later return to Philly to take on Saint Joseph's. With the Panthers and Hawks only three days apart, the team has little time to rest.
After an adequate warm-up against non-conference competitors, the Dragons will begin their CAA play against the talented Seahawks from the University of North Carolina-Wilmington. Drexel will face the team in Wilmington, N.C. Dec 4. They have yet to beat the Seahawks since 2009, when they came out on top by just five points.
From the Jan. 5 game against Hofstra through the rest of the regular season, the Dragons will take on conference competitors with hopes of reaching the postseason once more.
The regular season wraps up Feb. 29, which also happens to be senior night, at home against Virginia Commonwealth.
Although the Dragons have an action-packed and exciting season ahead of them, the team needs to stay focused and chip away one competitor at a time.
"It is extremely important to start the season strong," Dillon said. "Like last year, we need to come out like we have something to prove. With four seniors, I feel the team will come out aggressive."
It is clear that the team has set high expectations for them this season and won't settle for anything less than greatness. So, for all of you fans out there, all that's left to do is grab some popcorn and get comfortable, because it's going to be an exciting ride.