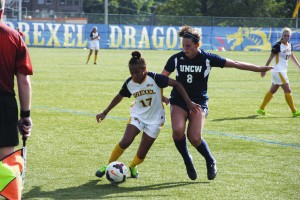 The Drexel University women's soccer team is excited to begin a new season in 2015. After a somewhat disappointing 7-9-3 finish last season, the Dragons are hoping to achieve a winning record and, ultimately, a Colonial Athletic Association Championship.
The team will be entering the season in rebuilding mode after the graduation of four seniors: Sam Greenfield, Megan Hammaker, Melissa Chapman and Alyssa Findlay.
These girls were key components and contributors to the team's success in the 2014 season. Greenfield performed well for the Dragons in her final season as a defenseman, playing in all 19 games. Hammaker was a force on the field as a midfielder and attack for the Dragons; she recorded an average of 3.11 shots per game. Chapman had a strong presence for the team at her defensive post but also contributed to the team's offense with five goals in the 2014 season. Findlay had a solid performance at midfielder for the team, recording four assists throughout the season.
"We lost a big core due to graduation, but the team has met this challenge head on with plenty of hard work and determination," head coach Ray Goon said, "and they are acclimating well."
The list of rising seniors for the team is impressive, and will surely be able to step up to continue and improve the program's success.
Goalkeeper Kelsie Fye was a stronghold in the net last season. The team is looking forward to her stepping back in goal and continuing her great performance after coming off a record-breaking year.
Seniors Lauren Stollar, Gabby Dixon, Jacki Sieder, Civanni Moss and Abby Toner will be accompanying Fye as leaders on this Dragon's team.
"I do have a different role on my team," Fye said of her role this year. "In years past we have had very outspoken upperclassmen who were very passionate about the game and were leaders on and off the field. I think all of the seniors this year have in some way molded into that role.
"Being the last line of defense last year, I stepped into a leadership role immediately. As a leader this year, I'm taking what I learned and what seniors in the past have done and am tailoring it to the needs of our team this season."
In addition, a bevy of youth is arriving to help those rising seniors. Seven freshmen will be joining the team, each with a notable resume: Vanessa Kara, forward/midfielder; Shaelyn McCarty, forward; Krista Ledins, defenseman; Emma Heckenberg, forward; Rachel Sharkey, defenseman; Gianna Pizoli, forward; and Jenna Griggs, goalkeeper. All seven will be expected to contribute in various degrees.
On the coaching side of the team, Maria Dorris has been named as an assistant coach. Her primary responsibility is working with the team's goalkeepers.
Thus far, the team has been beginning to come together and show a glimpse of how they will perform this season.
"We'll be young and many of our players are not quite battle tested yet, but sometimes when you're young, you don't know any better," Goon said, "and that can be a good thing."
Fye is excited about what the season could hold for the revamped team.
"Already in these first two weeks of preseason I've seen a lot of great potential and high hopes for this season," she said. "We have a strong senior class that has the opportunity to be the most successful class in Drexel women's soccer history."
"We struggled a little bit with that in our first scrimmage against Loyola but it wasn't too unexpected as it was our first game as a team," Fye continued. "We are getting used to playing with each other and every day we are seeing progress."
The Dragons will open up their regular season at home Aug. 21 when they welcome crosstown rival Villanova University.