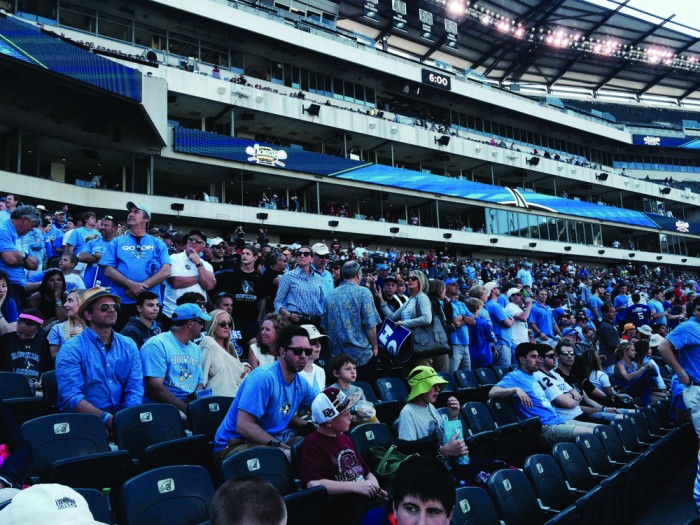 As the Johns Hopkins University men's lacrosse team took the field May 23 to face in-state rival University of Maryland at College Park, the Philadelphia sky's cloudless canvas mirrored the Bluejays' Columbia blue uniforms.
In the stands, a similarly colored, exceedingly raucous Johns Hopkins fan section had traveled for the final weekend of the 2015 NCAA men's lacrosse tournament.
Throughout the stands, proud alumni and their indoctrinated children donned circular stickers that read, "Eat, drink and beat Maryland," in white font printed atop a blue background. An infant sat on her mother's lap before the game started, wearing a Hopkins lacrosse bib and a Columbia blue bow atop her short wisps of hair. A man three rows down wore a black hat with Columbia blue stitching on the right side that read, "Class of '87."
Young and old — former and future Bluejays — all chanted together.
"Let's go Hopkins."
In 2013, Hopkins failed to appear in the NCAA Tournament for the first time since 1971. Few schools own a sport like Hopkins owns men's lacrosse. Think Duke University men's basketball, University of Connecticut women's basketball, or University of Alabama football.
Men's lacrosse is Hopkins' life-blood. To miss the tournament was unthinkable, until it happened. And it happened under the man who is now the program's winningest coach, Dave Pietramala. Last year the Bluejays returned, falling in the second round to eventual national champions Duke University.
This year, after losing six of their first 10 games of the season, the Bluejays won the Big Ten Tournament to gain entrance to the NCAA Tournament. They entered the final weekend on a seven-game win streak.
This weekend was more than just another trip to the finals. It was a chance for a program and its fans to reclaim their identity. And its fans were going to be there to watch it happen.
***
The first half was a constant game of catch-up for the Bluejays.
After ceding the first goal of the afternoon, Hopkins answered and tied it at one apiece before being bombarded by the Terrapins.
After winning the opening faceoff and launching a shot over the top of the Maryland goal, Hopkins couldn't gain possession. Maryland dominated, controlling the ball in the offensive zone. Goals piled up. Chances never came for the Bluejays.
When Maryland took a 4-1 lead in the first quarter, a spirited fan near the front of the Johns Hopkins section stood up and turned his "Let's go Hop" sign towards the crowd. A handful of fans responded. He tried to drum up a chant. It petered out in a handful of seconds.
A boy wearing a Denver University shirt walked up an aisle in the Hopkins fan section and looked around.
"Wow," he said, turning to his father, "this area is dead silent."
The sun had begun to fall down behind the stadium's western end and a shadow began to creep over the Hopkins fan section. A half-dozen fans darted for the gift shop and returned with NCAA-sponsored sweatshirts to stay warm.
At the end of the first frame, the scoreboard read, 4-1, Maryland.
This wasn't the plan.
***
The comeback began with a bang and a drum beat.
Hopkins won its second faceoff of the game, and its first since the opening draw. In a matter of seconds, the Bluejays drew a penalty. A roar went up from the fan section.
With 15 seconds remaining in the penalty, Hopkins' Patrick Fraser wound up and unleashed a simmering shot from the right side of the Maryland goal that beat the Terrapins' goaltender.
The Columbia blue-clad fans erupted.
After the brutal first quarter, they were eager to cheer for anything, and Fraser's goal was the spark.
The fans clapped to the thump-thump-thump of the school band's bass drum. Then they chanted, as they do after every Bluejay goal.
"One, two, we want more."
Another faceoff was won by the Bluejays.
A long offensive possession turned into another Johns Hopkins goal, this one scored with open space after a screen peeled a Maryland defender off his man.
Again, the thump came.
"One, two, three, we want more."
More were coming.
Maryland eventually found its feet as the quarter progressed and managed to deposit two goals of its own, but the Bluejays scored three in the second frame to draw with two goals by the halftime whistle. The scoreboard read 6-4, Terrapins.
Hopkins started this season losing six of its first 10 games. It could concede six of the first 10 goals and come back to win.
Things were lining up.
***
The space between the two loosely defined fan section seats was a lawless mixture of Columbia blue and rich red.
A man in a red hooded sweatshirt found himself accidentally surrounded by Hopkins fans, a ticket purchase gone awry. Peering over into the opposing Maryland fan section, a scant few Columbia blue dots pocked the sea of red.
When the third quarter began, the fan sections exalted evenly. The teams traded goals in a span of 27 seconds, and the Terrapins led 7-5 through the first five minutes.
Then came the Maryland onslaught: three goals in a cloud of dust and two minutes. The shipwrecked Maryland fan in the hooded sweatshirt stood and cheered loudly after the third, waving a small Maryland state flag as his female companion, wearing a red t-shirt, sat and clapped approvingly.
The lead had ballooned to 10-5 with 20 minutes to play.
In the swath of red shirts and Maryland state flags, the dots of Columbia blue lay dormant.
***
Hopkins fans were stunned, shell-shocked by the Terrapins.
Another "Let's go Hopkins" chant wrestled in the front rows of the Columbia blue sea before withering after a failed offensive chance.
Was the second quarter comeback a hoax? Hopkins fans seemed resigned to the fact.
On the field, the Bluejays' John Crowley wouldn't accept such a fate.
After a prolonged Maryland possession, Crowley capitalized on a Hopkins clear and rifled one into the back of the net.
"One, two, three, four, five, six, we want more."
Another faceoff win. Another Crowley possession. Just 39 seconds later, a second Crowley score.
"One, two, three, four, five, six, seven, we want more."
The third quarter bled into the fourth. Hopkins fans rose. One quarter to reach the championship game, to continue their season of seeming destiny.
The signs rose above their heads. "Let's go Hopkins," they chanted.
The fourth quarter began. Sixty-six seconds in, Joel Tinney made it three in a row for the Bluejays.
"One, two, three, four, five, six, seven, eight, we want more."
Hopkins fans stayed standing, rabid. Relentless.
The band's bass drum beat louder with each goal. This time, 70 seconds passed. Another goal, Crowley's third of the game.
"One, two, three, four, five, six, seven, eight, nine, we want more."
The gap was just one goal now. 10-9, Maryland.
Near the front of the Hopkins fans, a 20-something with a Columbia blue scarf and a ball cap turned to his fellow fans. "Come on," he bellowed, and they did.
Just one second shy of a minute later, bedlam arrived. Junior John Brown deposited the ball behind Maryland's goalkeeper, and the comeback was complete.
"One, two, three, four, five, six, seven, eight, nine, ten, we want more."
Five goals in just over eight minutes. The scoreboard told the tale: 10-10.
***
Under the cloudless sky, the moment had arrived for Hopkins fans. Their unranked Bluejays had pulled even with their state rivals. It could happen here and now. This was what Johns Hopkins lacrosse was about.
The fans continued their primal cries. The Maryland fan section did its best to counter, but the Hopkins chants poured over that no-man's-land in between the fans.
"Let's go Hopkins."
Then there was a penalty called on the Bluejays.
The Terrapins made use of their man-up advantage and erased the five-goal comeback, and in the blink of an eye Maryland's Matt Rambo put his team back on top, 11-10.
Two and a half minutes later, Rambo did it again. 12-10, Terrapins.
A young boy with a red mohawk exchanged a high-five with his father, three rows in front of a family draped in Columbia blue.
A sudden silence fell over the Hopkins fan section.
***
With four minutes to play, another "Let's Go Hopkins" chant broke out, the Bluejays' fans gasping for air in an increasingly claustrophobic game. The clock ticked downwards, relentless.
Action bounced back and forth between the two sides until, with just over one minute to play, Hopkins' Shack Stanwick struck the back of the Maryland goal and Bluejays fans exalted.
A one-goal game. Seventy-three seconds to play. It could be done.
"Let's go Hopkins," the fans begged.
It began with a face-off win for Hopkins. A timeout was called by Bluejays coach, Dave Pietramala.
After the timeout, a shot from Stanwick flew just wide with 48 seconds to go. The collective breath held by Hopkins fans was released.
A Maryland possession came next, short and unsuccessful at killing time. Hopkins regained possession, with a scant 13 seconds to play. The last chance for the Bluejays appeared, plucked from the Philadelphia air.
The Hopkins fan section held its breath once more. A shot came from Hopkins' Joel Tinney, with seven seconds to go. It scorched towards the Maryland net. And then it was turned away.
No goal. No comeback. Not this time. Not this afternoon.
A Hopkins injury slowed the inevitable comedown, but Maryland regained possession with two seconds to play and, when the game restarted, flung it downfield, out of the Bluejays' reach.
It was over. Johns Hopkins fell short.
A man wearing a Columbia blue sweater turned, his son's hand in his own, and aimed for the exit. The ball hadn't even touched the ground.
***
In January, the Hopkins men's lacrosse team lost one of its own. Jeremy Huber, a freshman, passed away suddenly January 26.
The team wore commemorative patches on their uniforms and stickers on their helmets this season. Huber's number 19 was painted in front of the team's bench area at the Bluejay's Homewood Field. The school won't issue his number 19 jersey until the Class of 2018, Huber's class, has graduated.
After the game ended, in the belly of the stadium, Pietramala was asked about everything his team had endured during the season. Huber's tragic passing. The team's slow start. The struggles, all of them.
"Your question is do I have perspective after this season, with this game?" Pietramala asked. "You're darned right I do.
"There's a father, a mother and a son sitting in those stands and they were cheering their a– off for us today," he said. "Pardon my language. That's probably not appropriate. They were cheering their tail off for us today. And they've suffered.
"And I hope deep in my heart in some way shape or form this group of young men and our staff were able to give them some comfort, to help them heal. I know they've certainly helped us. They've been bigger than we have.
"So, yes, I take a lot of perspective from this. Like I said, we're not going to win the national championship. Guys in the locker room and in black and blue, they're champions in my mind. I'm good with them," Pietramala said.
When the Bluejays exited the field and headed into the tunnel, minutes after coming inches short in a season stretching many miles, there were few tears. There were looks of dismay. But there were also chins held high and conversations carried.
"I go home today and I won't sleep well because we lost," Pietramala said. "But more importantly I won't sleep well because I don't get to spend any more time with this group of young men.
"Johns Hopkins family, our alumni, our fans should be proud as hell of this group. They're pretty special," Pietramala said.
***
Outside the stadium, a man in a Columbia blue Johns Hopkins lacrosse T-shirt spoke on his cell phone as he waited in line for a port-a-potty.
"Yeah, well, I guess I'm a Maryland fan now," he said before chuckling to himself and his cellular confidant.
Fifty feet away, in a grassy infield amidst cars jostling towards the exit, a pair of young boys tossed a lacrosse ball back and forth. One, with shaggy blonde hair, wore a Johns Hopkins hat. The other, taller boy wore a Maryland T-shirt.