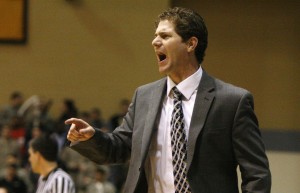 At last, score one for the Dragons.
On May 24, after spending 66 days without a head coach for its men's basketball team, the University of Delaware hired former Notre Dame assistant Martin Ingelsby.
During the school's two-month tail chase, six Delaware players — Kory Holden, Eric Carter, Chivarsky Corbett, Cazmon Hayes, Maurice Jeffers, and Skye Johnson — transferred from the team, leaving Delaware decimated and the Blue Hens facing a precipitous climb to return to relevance in the fast-evolving Colonial Athletic Association.
In comparison, Drexel spent a paltry 16 days without a head coach after firing Bruiser Flint on March 7.
Notice the difference?
Delaware's situation was complicated by the Hens' athletic director, Eric Ziady, stepping down at the end of December, leaving a gigantic hole atop Delaware's athletics department. The school pledged to find an athletic director before hiring a head coach — not that they had much of a choice — and thus found themselves flailing deep into May, missing a recruiting period entirely in April.
Many around the program, and the area, could have predicted the Ingelsby hire within 24 hours of former Hens head coach Monte Ross' firing. Ingelsby's name had been rumored for the Delaware job, ever since last summer. He's a good hire, someone who knows the area and has a high-major pedigree.
This knowledge is why Delaware's inability to make the hire earlier, and thus save the program from hemorrhaging talent, must be frustrating for Blue Hens fans.
The two months spent looking for an athletic director were the only impediment to Delaware hiring Ingeslby, but because of the self-imposed order of operations, the move couldn't go through — and thus, basketball operations were delayed indefinitely — until the school could find a replacement for Ziady.
Delaware finally hired Christine Rawak as the school's new athletic director on May 13, and made the Ingeslby hire official 11 days later.
Ingelsby was also on Drexel athletic director Eric Zillmer's coaching search shortlist, but with Notre Dame competing deep into the NCAA tournament, the timing never lined up.
Realizing it wasn't meant to be, Zillmer did the right thing and didn't wait to pull the trigger on his next best option, new men's basketball head coach Zach Spiker. By hiring Spiker when he did, Zillmer limited the short-term and long-term damage to the men's basketball program. Drexel's incoming freshmen, Jeremy Peck and Sam Green, remain committed to the Dragons, and the majority of the team's roster is intact.
Of course, losing Terrell Allen and Sammy Mojica to transfers will absolutely set the 2016-17 iteration of Spiker's regime back. Allen was ticketed to be the Dragons' best player this fall after a superb freshman year.
But weighing two transfers against six is the kind of difference that comes from waiting 16 days to hire a new head coach, compared to 66 days.
Now, Ingelsby will be tasked with cobbling together a staff, long after Spiker made his first moves in hiring Chris Clark, Paul Fortier, and Rob O'Driscoll to his staff.
The change of guard since the Bruiser Flint era, the Zach Spiker hire, and Delaware's subsequent ineptitude, should have Dragons fans feeling good. At least for now.
And, of course, it should also have them looking forward to a new chapter in the CAA's best rivalry.