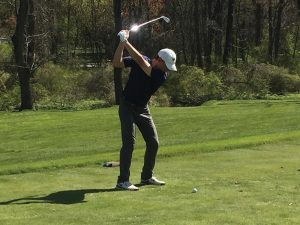 The Drexel University men's golf team finished in second place out of 14 teams and senior Chris Crawford had the best individual score at the Finegan Invitational hosted by La Salle University at Philadelphia Country Club in Gladwyne April 18.
The Dragons, who came into the Finegan Invitational riding the momentum of a second place victory at the Towson Invitational April 3, finished tied for first place with The United States Naval Academy after the 36 holes of regulation golf.
After the first 18 holes of play on Monday, the Dragons had combined for 293 shots, which gave them a 4-stroke lead over the Midshipmen. However, Navy staged a comeback in round 2 and tied Drexel's combine score of 593 for both rounds at the Finegan Invitational.
Due to the tie, Drexel and Navy were entered into a playoff round where the Midshipmen came away with the victory.
In the final regular season outing of his career, Chris Crawford, the best golf player in the history of Drexel's program, led the individual competition from beginning to end. Crawford shot a three-under-par 68 in the first 18-hole round of the tournament, which tied the Finegan Invitational single round record.
In the second round Crawford shot a one-under-par 70 and finished the tournament four strokes below par. Crawford's brilliance was evident in the fact that he was the only individual to finish the tournament shooting below par.
His first place individual finish at Finegan was the eighth medal-win of Crawford's career, which increased his Drexel record for individual victories.
Crawford's play was accompanied by impressive performances from all four of his teammates. Junior Yoseph Dance had a solid opening round and shot a one-over-par 72 through his first 18 holes on Monday. Dance finished the tournament with a 149, which was the fifteenth  best individual performance at Finegan.
Junior Brian Fischer had his strongest performance of the season by shooting 152 over the course of the tournament's two rounds. Fischer's score was the third lowest for the Dragons.
Sophomore Adam Mistretta contributed to Drexel's score with a 156 through both rounds, and his 76 in the second round was the second lowest score individually in that round for the Dragons.
With the regular season over, Drexel's next appearance will be at the Colonial Athletic Association Championships at St. James Plantation in Southport, North Carolina April 22 through April 24 where the Dragons will attempt to capture the first CAA title in school history.