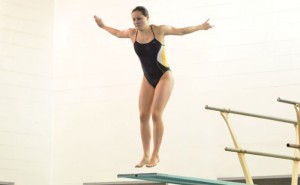 The Drexel University men's and women's swim teams competed at the AT&T Winter National Championships from Dec. 3 to Dec. 5. This was their final match until returning to water on Jan. 3 and 4 for the Georgia Diving Invitational.
The AT&T Winter National Championship was held in Weyerhaeuser King County Aquatic Center in Federal Way, Washington. On Dec. 3, day one, Joel Berryman was the lone Dragon to swim. He swam the 50 free with a time of 23.65 and earned 68th out of 106 in the heat.
On the second day of competition, Kyle Lukens earned himself 41st of 75 swimmers in the 100 fly. He earned a time of 55.47. Berryman swam again on day two, taking on the 100 back. He took 68th out 77 swimmers with a time of 57.36. J.T. Lumpkin had a great day finishing in the top half of his competition, finishing 33rd out of 77 swimmers. He also swam the 100 back, and finished with a time of 59.26.
Rachel Bernhardt represented the women's team at the AT&T Winter National Championships. On the second day of competition, she competed in the 100 breast. Bernhardt finished with a time of 1:10.83, which notcher her 27th out of 77 swimmers. This was the best performance of any Dragons at the championship.
On the last day of competition Bernhardt and Berryman were the only two Dragons to compete. Berryman swam the 100 free and earned a time of 52.18. His time notched him 83rd out of 102 swimmers. Bernhardt took on the 200 breast, and did not disappoint. She earned a time of 2:36.43, giving her 32nd out of 68 swimmers.
The men and women's teams took a break from swimming for a month to recharge and gather themselves for their winter season in the new year. The diving team competed Jan. 3 at the UGA Invitational hosted by the University of Georgia.
The Dragons competed in the women's 1m and the men's 3m. Jaclyn Goulet finished with a score of 164.00 earning her 56th place in the 1m. David Sanchez dove impressively, earning a score of 265.30 and placing him 24th in the 3m. Simon Carne also dove in the 3m. He earned a score of 159.75 which gave him a 30th place finish.
Unfortunately no Dragon could qualify for a board final, but after a month off there can certainly be rust that needs to shaken off. The Dragons will be looking to better their performance when they compete in Newark, Delaware, where they will be facing the University of Delaware Jan. 9. The swimming and diving teams will be looking to get back on track with this match, and set the tone for their winter competition.